"How could I carry a gun rather than my viola?"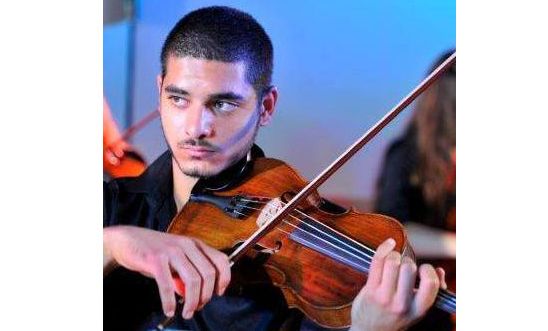 Amnesty International Cambridge City Group is honoured to present the Galilee Quartet in concert and conversation on Tuesday 30th September. This is their first appearance since viola player Omar Saad was released from prison for the seventh and final draft for refusing to serve in the Israeli Defense Force. The performance will be followed by a Q&A with Omar which will be chaired by Julian Huppert MP
The Druze teenager and citizen of Israel gained international support as a conscientious objector after last year refusing to serve in the Israeli Army. Omar says: "I  am a musician.  I play for peace and justice.  How could I carry a gun rather than my viola?"  
Omar, his two violinist brothers and their cellist sister make up the Galilee Quartet, a classical string quartet from the Galilee village of Maghar. Viola player Omar and his younger brother and violinist Mostafa  previously performed with Nigel Kennedy at the Royal Albert Hall at the Proms 2013. Mostafa has already been called up to the draft and next year he will go to military prison as a conscientious objector. 
The quartet will be playing  for peace and to support other Jewish and Druze conscientious objectors now in prison in Israel. They will be appearing at a number of events organised by local Amnesty groups and activists in London and South England between 30 September and 8 October.  
The concert is free with a retiring collection. Please donate generously so the costs of the event will be covered and for Amnesty's work for justice and human rights across the world. Further details about the concert and the Galilee Quartet are below.
Tuesday 30th September, 7:30pm
Emmanuel United Reformed Church, Trumpington Street (opp. Pembroke College), Cambridge CB2 1RR
A blog written by Amnesty's Hannah Slater about Omar and conscientious objectors in Israel in general can be read here. This also includes details about other concerts given by the Galilee Quartet this autumn, or look here.
Further information about Human Rights in Israel and the Occupied Palestinian Territories as well as a petition can be found here. 
Concert programme:
Buorree 1st and 2nd from the 3rd cello suite by J. S. Bach (solo viola)
Sarabande in D minor from the 2nd partita for violin by J. S. Bach (solo violin)
Por Una Cabeza - Tango from "Scent Of A Woman" by Carlos Gardel
Pirates Of The Caribbean – movie melody
Eine Kleine Nachtmusik K.525 Allegro and Menuet (Allegretto) by W. A. Mozart
Paloma (Tango)
El Cumbanchero (samba) by R. H. Marin
Arde am bit'ase by Wadi Al Safi.
Raj'aeen ya hawa raj'aeen by Fairouz
About the Galilee Quartet
The Galilee Quartet is a classical string quartet comprised of three brothers and one sister from the Sa'ad family, a Druze family from The Galillee in Israel.
The Gaillee Quartet are students at Beit Almusica Conservatory and have performed in almost every city in Palestine and several European countries with Edward Said National Conservatory of Music's ensembles and youth orchestras (Italy, Greece, France, Jordan and England). In their last tour with the Palestine Strings ensemble, they performed with the great virtuoso violin player Nigel Kennedy in a phenomenal concert in the BBC proms music festival in London at the Royal Albert Hall.
Mostafa returned to play a duet with Nigel Kennedy at the Last Night of the Proms in Hyde Park in the same year, and again with Kennedy at Bethlehem Unwrapped in January 2014.
Omar, 18, is the oldest brother and viola player in the quartet. He has been a keen musician since 2004 and plays piano and oriental percussion in addition.
In 2013 Omar gained international fame as a political activist when he sent a letter to the Israeli Prime Minister and Defence Minister explaining the reasons for his refusal to serve in the Israeli Army. As a conscientious objector, he refused to exchange his "musical instrument that can make world peace with an assault rifle that can kill people and innocent children and taking part of occupying his own people – the Palestinians."
Omar graduated in 213 from Beit Almusica conservatory with the highest distinction in viola recital. After few months he entered military prison because of his refusal and returned for seven imprisonments with a total of 150 days (excluding 40 days in addition spent in hospital and at home). After 200 days and seven refusals of the draft Omar was finally exempted from military service.
Mostafa, 16, is the second eldest brother in the quartet and their first violin player. He started playing music in 2004 and also plays the Oud, an oriental guitar. Mostafa has won first place in a Palestine national music competition three times in three different categories (2008, 2010, 2012). He took first place in Nazareth talent competitions in 2010 and in the same year he joined the Palestine Youth Orchestra as their the youngest player.
Mostafa has been summoned to present himself in the recruitment office in Tiberias and next year he'll be imprisoned for his conscientious objection and refusal to take part in the occupation of his own people.   
Tibah, 15, is the only sister in the quartet and their cello player. She has been playing music since 2006 and also sings. Tibah is a member of Beit Almusica Orchestra and she sings oriental Arabic and Western classical songs and was chosen as Talent of the Year by the Conservatory in 2010.
Gandhi, 13, is the youngest brother and is the second violin player in the quartet. He has been playing music since 2006 and also sings. Like his elder brother Mostafa, Gandhi won first place prizes in a Palestine national music competition over three years in three different categories (2010, 2012, 2014). He was chosen as Talent of the Year at the Conservatory for the year 2012.
View latest posts