Bristol Youth Mayors back Amnesty Youth Awards 2016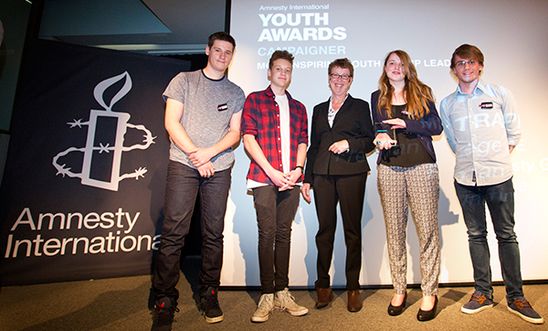 YOUNGSTERS BACK TO SCHOOL SHOULD 'GET CREATIVE AROUND HUMAN RIGHTS', SAY BRISTOL YOUTH MAYORS
Bristol's Youth Mayors Neha Mehta and Thanushan Jeyarajah today encouraged the city's young people to start the new year on a creative note and enter Amnesty International's Youth Awards 2016 competition.
The competition, which is run in partnership with People's Postcode Lottery, SOAS and The Observer, aims at finding the human rights reporters and advocates of tomorrow by having young people sharing their imaginative and inspirational approach to human rights.
Neha and Thanushan, who have only recently been listed amongst the "most influential Bristolians under 24" by Bristol's youth-led online platform Rife, feel that there is a great deal of unique potential amongst Bristol's young people.
17-year-old Neha Mehta, who believes that young people should be regarded as the leaders of tomorrow, says: "There are so many creative and compassionate kids in Bristol who have great talent and the ability to make a real difference. The fact that Bristol has a Youth Council speaks volumes about how committed young people are in this city. I work with them every day and am blown away by what they continue to achieve." Thanushan Jeyarajah, who is also 17 and a firm believer in taking responsibility for the future, adds: "And let's not forget that younger children can also make a tremendous impact – an inspirational city just breeds inspirational minds, no matter what age you are! I would encourage everyone to challenge themselves and see if they could be the next Youth Awards winner."
The Youth Awards competition is easy to enter and open to young people between the ages of 7 and 19. There are six categories for entries: Reporting, Performing, Photography, Campaigning, Fundraising and Poetry.
Full details of how to enter as well as information about the various categories can be found online at https://amnesty-youth-awards.org.uk/.
The competition closes on 24 February 2016, with the top three entrants in each category invited to Amnesty's headquarters for a prestigious awards ceremony in May 2016.
View latest posts