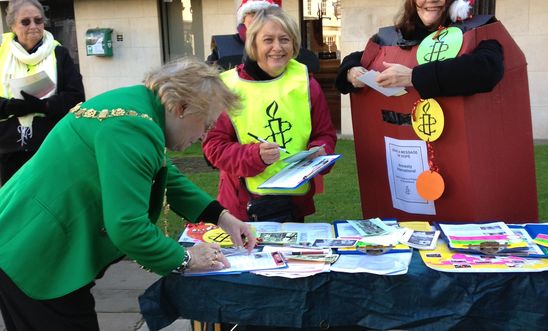 Join the group to sign cards as part of the annual Write for Rights campaign: events taking place around Human Rights Day on 10 December.
Event no. 1
Members of the group will be encouraging shoppers to sign a card for an Individual at Risk.
Venue: Chichester Cathedral Green and environs
Date: Saturday 5 December 2015
Time: 10:00 - 12:00
Contact: Kath Shakespeare 01243 552131 or Bob Dewick 01243 823016
Event no. 2
We will continue the Write for Rights campaign at Ann Stewart's house on the following Saturday. We will have our lightweight printed cards available.  Please contact Ann on 023 9263 1812 if you'd like to come.  If you've not been to the Pump House before, it is highly advisable to get directions by emailing dillstew2@hotmail.com . If the weather allows you may want to walk in the woods first.  You would be welcome to park at the Pump House.
Venue: The Pump House, Stansted Park, PO9 6DZ
Date: Saturday 12 December 2015
Time: 14:00 onwards
Contact: Please contact Ann on 023 9263 1812 if you'd like to come
View latest posts