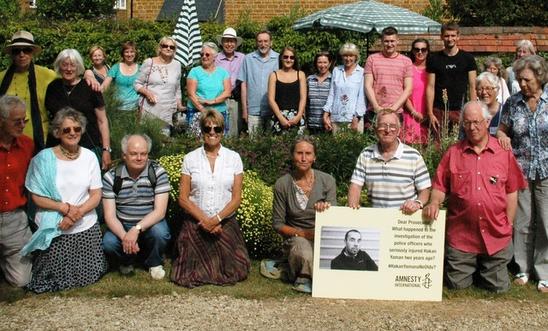 Welcome to the Banbury Area Group of Amnesty International. We are ordinary people standing up for humanity and human rights. Our purpose is to protect individuals wherever justice, fairness and truth are denied.
We have regular meetings, hold awareness and fundraising events and host letter writing camapigns.
If you live in or around Banbury or the North Oxfordshire villages contact us for more information.
Monthly Activities
Our main ongoing work continues to be conducted through our monthly meetings, now held on the Third Monday of each month (with the exception of August when there is no meeting) and held at the Friends Meeting House, Horsefair, Banbury.
At these meetings we deal with the various action items sent to us in the monthly pack for groups from Amnesty HQ and continue our campaign for justice for our 'adopted individual' Hakan Yaman. These typically include requests to write to foreign governments in connection with Amnesty campaigns or to enlist the supportof our MP, Victoria Prentis or UK Ministers in particular cases. We also discuss and plan our awareness and fund-raising events and endeavour to write at least one letter each a month about the the "Real Lives" -  individual human rights cases that are published in the Amnesty Magazine.