WALK AGAINST TORTURE March 14th, 2015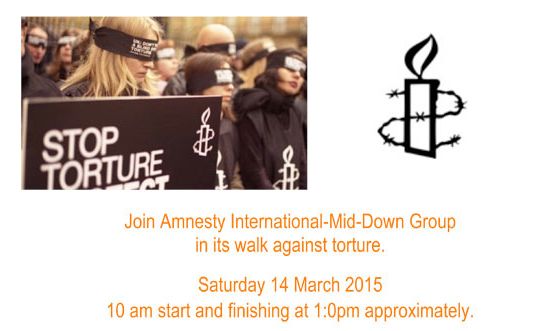 Dear colleagues
Please find attached a flyer and poster for a 5-mile walk around the foothills of the Mournes, Saturday 14 March, 2015, 10:00 to 13:00 approximately, starting in the Donard Park, Newcastle.
This is a fund raiser for the charity Amnesty International, for their work on human rights and their campaign to Stop Torture.
I would be most grateful if you could bring this to the attention of your members.
As a charity event, we would charge £5 per person to go to Amnesty International.
Contact details and other information is attached.
Many thanks for your help in this.
Philip Nye
Chairman, Mid-Down Group, Amnesty International
66B Minerstown Road
Downpatrick
Down
BT30 8LS
028 44851920
07725071803
Downloads
View latest posts