*Thank You* WRITE FOR RIGHTS, SAT 24 NOVEMBER, 11.30AM-1.30PM, ST MARY'S CHURCH BANBURY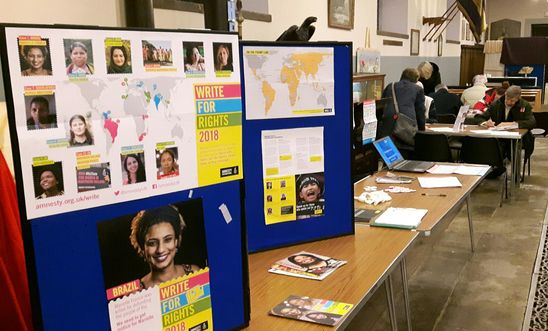 *Thank you to all those came to our Write for Rights events at the weekend.*
Please drop in during the two hour slot above and join us, as part of this key annual event in Amnesty's calendar, to send messages of support and encouragement to human rights defenders and others whose human rights are under attack in different parts of the world. All are very welcome.
If you would like to read up on the individual cases that are the subject of the 2018 Write for Rights campaign please see:
https://www.amnesty.org.uk/files/2018-10/W4R18%20case%20booklet.pdf
This event will also be an opportunity to mark and celebrate the twentieth anniversary of the UK Human Rights Act (which came into effect 9 November 1998). This incorporated the provisions of the European Convention on Human Rights into UK domestic law.  By way of example of its impact, it was through the Human Rights Act that the families of the Hillsborough victims were able to secure some manner of justice for their loved ones.
View latest posts