Great Amnesty Quiz night - Thursday 7 February *THANK YOU*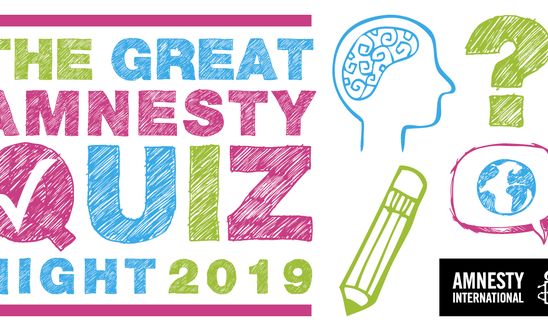 Thank you to all for took part and especially to those to helped organise this event.
A mix of teams from the Banbury Group and the Sibford School Group enjoyed a high energy evening of competitive quizzing at Sibford School loosely based on Amnesty-related themes last Thursday evening. This was part of a nationwide initiative taking place in aid of Amnesty International; 40 other Amnesty groups also took part. It was great that students at Sibford School wanted to get behind this Amnesty initiative and that we were able to hold our first collaborative event with them. We're very grateful in particular to Zoe Simms, head of RS at the school, and Alastair Boland, the student leader of the Sibford Group, for their support and enthusiasm for the event. Many messages to the UK Government about the need to reunite refugee families will be sent as a result of the call to action on the evening. The winning team was "Walker Bros", appropriately a hybrid Banbury/Sibford combo.
GREAT AMNESTY QUIZ NIGHT - THU 7 FEB, STARTS 7PM PROMPT
MAIN HALL, SIBFORD SCHOOL
The Banbury Group is joining forces with the student Amnesty Group at Sibford School to organise a Great Amnesty Quiz Night as part of a week of nationwide quizzing in aid of Amnesty International. It's great that students at Sibford School are behind this Amnesty initiative and Banbury Group is delighted to be able to support them in hosting the evening.
It will be excellent if you're able to bring a team of four to take part in this fun event. Questions are accessible general knowledge and not dominated by human rights/Amnesty matters. Details:
SIBFORD SCHOOL
THE HILL
SIBFORD FERRIS
BANBURY OX15 5QL
Enter by main school entrance where parking is available
The event takes place in the Main Hall - follow directions
ALL MOST WELCOME
Prizes/Raffle
Refreshments available (note, being on the school premises, this is an alcohol-free event)
TO BOOK IN YOUR TEAM OF FOUR SIMPLY EMAIL - ian_myson@hotmail.com
Then pay on the night (£5 per person/ £2 under 18's)
View latest posts