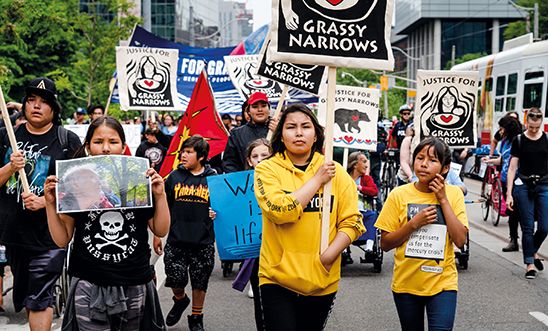 The young people of Grassy Narrows First Nation are fighting for their community
Campaigning against mercury poisoning
Young people from the Grassy Narrows First Nation in northwest Ontario are fighting for a healthy future for themselves and their community. In the 1960s, a pulp mill upstream dumped an estimated nine tonnes of mercury into the river system, contaminating the fish and making them dangerous to eat. For the community it was devastating: fishing was a vital part of their way of life. Generations of young people grew up with serious health problems and lost their cultural traditions. The government has done little to address what is currently Canada's worst health crisis.
In 2017, the government promised to deal with the mercury crisis 'once and for all'. This would mean cleaning up the river, offering the community specialised health care and providing compensation. The young people of the Grassy Narrows First Nation are determined to hold the government to its promise.
Send a message of support and solidarity.
Address:
Grassy Narrows youth
c/o Amnesty International Canada
312 Laurier Avenue East
Ottawa
Ontario
Canada
K1N 1H9
Language:
English or Anishinaabe
Suggested messages (keep short): 
Justice for Grassy Narrows Grassy Narrows – we're with you.
Mercury justice now #FreeGrassy.
We support the youth of Grassy Narrows.
Creative action:
Share environmental or nature conservation work in your community.
Can I:
Send a religious card or message? No
Send an Amnesty card or mention Amnesty? Yes
Include my name and address? No
Send an appeal letter
Tell the Prime Minister to provide the Grassy Narrows First Nation with specialist health care and compensation.
Write to:
Prime Minister Justin Trudeau
Office of the Prime Minister
80 Wellington Street
Ottawa, Ontario
CANADA
K1A 0A2
Salutation: Dear Prime Minister
Message:
To provide specialised health care for survivors of mercury poisoning at Grassy Narrows.
To compensate all community members for the impacts of mercury poisoning.
To formally acknowledge that the Grassy Narrows youth are suffering from mercury poisoning.