By Isabella Pearce and Hannah Robathan, shado magazine 
shado in partnership with Amnesty UK
shado is a multimedia platform driving change at the intersection of arts, activism and academia. It was founded in January last year as a space for people to change the narrative through sharing their own stories.  At the core of its ethos is a belief in the power of self-representation and the arts to change perceptions – and this has never been more important than in relation to the sustained negative and increasingly dehumanising conversation around migration.
With Amnesty UK's Football Welcomes Community Project, and in partnership with Liverpool County FA; shado collaborated with Stuart ('Stu') Carrington to create a short, shareable video which celebrates the unifying force of football in welcoming new members of the diverse Liverpool community. 
Football welcomes everyone 
The aim of the programme is to use football to promote integration and inclusion for communities made up of refugees and people seeking asylum. A bedrock of the Football Welcomes programme is to ensure that anyone who wants to play football has the opportunity – and in the case of Liverpool's women's team, the membership includes university medics from John Moore's, local Liverpool girls and refugees and people seeking asylum. By opening up its membership to all groups, the programme crucially recognises that integration is a two way process; everyone has a role. 
At the heart of integration is education, particularly amongst local communities who might not have knowledge of the reasons behind forced migration and the realities faced by those in the asylum system. By bringing people together once a week for training, and for the monthly She Inspires tournament against other women's teams, the football pitch, and post match tea break, manifests as an important safe space for conversation, camaraderie and learning from each other's experiences.
Often, one of the biggest barriers for a person who has been forced to start a new life is that of accessing communities and building friendships. The UK's hostile environment for migrants can be an incredibly isolating and lonely experience, particularly for women who have often come to the UK on partners' visas and are not considered for Government-funded English-language learning; women traditionally also take on the role of childcare duties, which result in large periods of time alone at home. While the football programme exists to build confidence and language skills, which are key to surmounting these barriers, above all, the football teams are spaces for people to enjoy themselves and to simply have fun.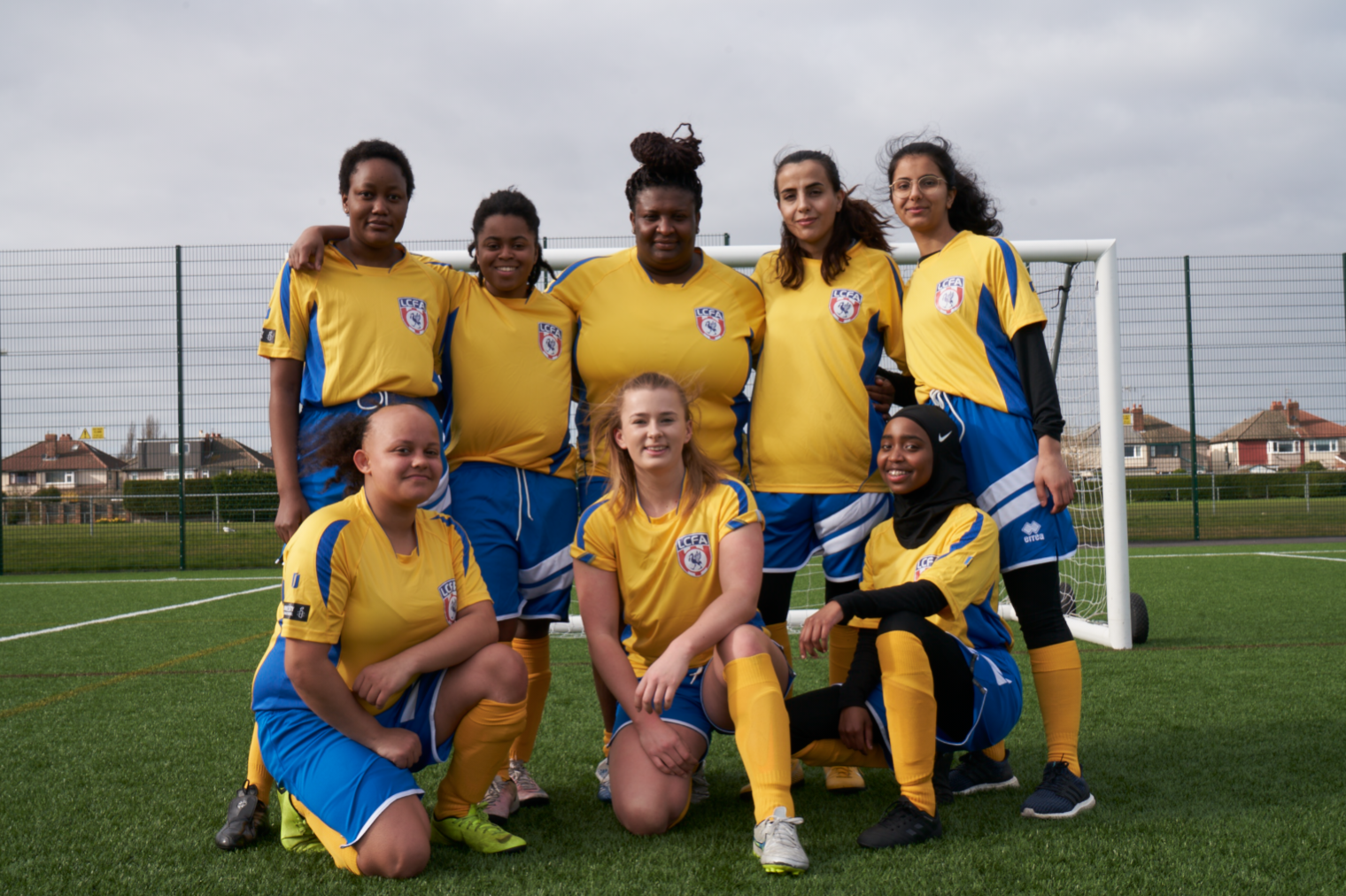 Football Welcomes women's team 2020: Credit Ines Hachou 
Bringing people together
As Stu says, 'We make the football sessions fun and enjoyable so they can interact with each other as well. That's the main part of what we do. If you enjoy what you're doing and it's fun, you learn quicker. The football skills we teach them gives them confidence not only in football but also in the outside world.'
Although there is no hierarchy within the group, Comfort Etim, who founded the group, is universally acknowledged as the team's captain. We sat down with her in her home in Dingle, where she explains how important the football sessions are for their members, providing a much-needed hour a week where the women can focus on themselves and leave other stresses to one side. It's time to switch off, she says, whether that is from studies, childcare or anything else. 
By bringing people together in this way, the programme highlights the importance and power of football in community, and the power of the game to bring together people from all walks of life, transcending language and cultural barriers. In particular, the team has shown us the power that this space can have on building meaningful friendships and security within local communities for refugee women and those who are seeking asylum.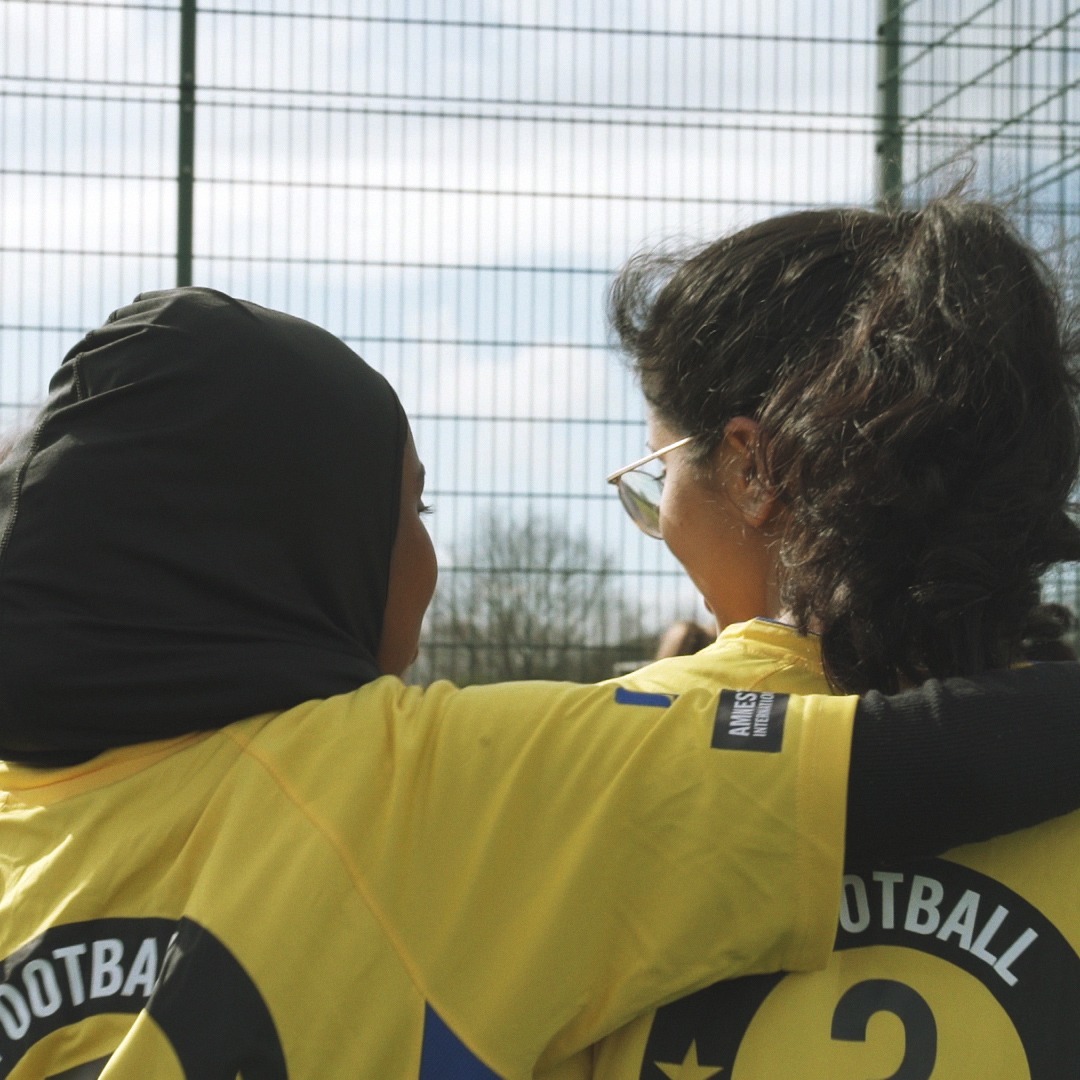 A member of the Football Welcomes women's 2020 team: Credit Ines Hachou 
Navigating the UK's harsh immigration system
The realities of the UK's harsh immigration laws lead to a myriad of difficulties for those forced to navigate it, such as destitution, harsh restrictions on employment and enforced family separation. While football is an important break from reality for these women, Comfort says, it's also remarkable that they are able to make time for the sport, in amongst what can be highly challenging circumstances. 
'These women are strong. Whether it's the ones that are students amongst us; whether it's the asylum-seekers amongst us; whether it's the refugees amongst us: I see strength. Because it would take someone who is really strong to be going through what they're going through, and still having time to play the game of football.'
Although, inevitably, we have had to pause our work with the team, we are really excited to see Stu, Comfort and the women once it is safe to do so. We feel privileged to be showcasing just a fraction of the amazing work they are achieving and can't wait to get back on the pitch once training has resumed.
'You can just tell how powerful women are - if we set our minds to do something, we're go getters so I always say to women just set your mind to your goal and work towards it. Be determined, be dedicated and be disciplined' - Comfort