'It was hard learning a new language, learning a new culture, whereas football's just the same wherever you go. No-one really cared where you were from. They just wanted you to pass them the ball'
Aston Villa Ladies Elizabeta Ejupi on how football helped after her family fled Kosovo to the UK in the 1990s.
Refugees and football in the UK
Over the weekend of 21-22 April, sixty football clubs across the country – from the Premier League to grassroots refugee teams – lay aside their rivalries and came together to celebrate the contribution refugee players have made, and continue to make, to the beautiful game.
More than half of Premier League football clubs - including West Ham, Everton, Crystal Palace, Tottenham Hotspur, Newcastle United and Leicester City - took part in Amnesty's second Football Welcomes weekend. They were joined by clubs from the FA Women's Super League, English Football League and Scottish Premiership, as well as non-league and grassroots teams across the country.
Footballers Mario Vrančić, Anita Asante and Steven Pienaar joined celebrity football fans Keira Knightley, Dame Judi Dench, Kaiser Chiefs, Stephen Fry, Patrick Stewart, Ken Loach, Jordan Stephens and Juliet Stevenson in backing the initiative.
'I was born in apartheid South Africa and I know how sport, including football, can help to bring people together and break down barriers. I'm really proud that Everton is taking part in Amnesty International's Football Welcomes weekend.'
Steven Pienaar, Former Everton winger
By putting on events and activities for refugees and people seeking asylum living nearby – from offering free tickets and putting on a match or tournament, to arranging a player visit or a stadium tour - football clubs are now saying loud and clear that refugees are welcome in the UK.
Footballers with a refugee background have been making their mark on the beautiful game for decades. Arsenal's Granit Xhaka, Chelsea's Victor Moses, Manchester City Women's Nadia Nadim and Crystal Palace's Christian Benteke, are among those currently playing in the UK. 
They follow in the footsteps of a group of Spanish Civil War child refugees who sailed from Bilbao to safety in the UK over 80 years ago, and went on to play for Southampton, Wolves, Coventry, Brentford, Cambridge United, Colchester United and Norwich City, in the 1940s and 50s.
At the heart of the community
Football clubs are at the heart of many of our communities, where people come together, on and off the pitch, over a shared passion for the beautiful game.
Playing football, and taking part in sport more generally, can not only be good for physical and mental health, but can also give people a sense of belonging and purpose.
In Norfolk, 61 local schools and nearly 20,000 children participated in 'Norfolk Welcomes – Football Welcomes' on 20 April, when normal lessons were suspended and the children spent the day learning about migration to East Anglia and the role that football can play in welcoming refugees.
'It was clear the war in Bosnia was coming and we had to leave to find safety. My entire family went to different countries. The hardest thing was leaving my grandparents behind and trying to start a new life in a new country.'
Mario Vrančić, Midfielder for Norwich City FC
🎥 "We left our house (in Bosnia) and just took some clothes and ID."

Supporting @amnestyuk's #footballwelcomes #norfolkwelcomes #ncfc pic.twitter.com/rlCbrjYb5a

— Norwich City FC (@NorwichCityFC) April 20, 2018
Newcastle United and Southampton hosted stadium tours, while the West Ham Foundation put on an afternoon of football activities for young refugees and asylum seekers living locally. 
 
Stoke City and Everton work with refugees through their community trusts and promoted Football Welcomes online or in match programmes, while Spurs and Swansea both invited refugees to a game.
#SCFC are joining clubs across the country this weekend to celebrate the contribution refugee players make to the beautiful game.

It's all part of @AmnestyUK International's Football Welcomes initiative.

👉 https://t.co/qtOayuOL5O#FootballWelcomes #SCFC 🔴⚪️ pic.twitter.com/4oOZnZi0sG

— Stoke City FC (@stokecity) April 20, 2018
Huddersfield Town invited refugees and asylum seekers for a training session followed by a match and tickets to a game…
It's brilliant to see football clubs taking a stand to welcome #refugees. Amnesty's #FootballWelcomes could not be more timely and I'm delighted @htafcdotcom is getting involved. https://t.co/Qjnj9EwFnO

— Patrick Stewart (@SirPatStew) April 28, 2018
 ...while Crystal Palace's foundation - Palace for Life - released a short film about a young Afghan refugee who has taken part in one of their community schemes.
A number of women's teams, including Spurs and Reading, also extended an invitation to refugees to watch a match, and Everton Ladies, Sunderland Ladies, Bristol City Women and Aston Villa Ladies warmed up in Football Welcomes t-shirts.
🏃‍♀️⚽️🌞 We get set to take on @SFCLadies at @cheshuntfcscore under the sun (1pm kick-off), as #SpursLadies and #FootballWelcomes @amnesty's initiative...#COYS pic.twitter.com/ijn1oT4X5j

— Tottenham Hotspur Ladies (@ThlfcOfficial) April 22, 2018
Meanwhile, England and Chelsea Ladies defender, Anita Asante, perfectly summed up how football can help people who have had to flee their countries.
My passion for football gave me a real sense of purpose and belonging- both of which are much needed for refugees who have had to leave everything behind. So I am delighted to support @AmnestyUK https://t.co/QW5xcRQev4

— Anita Asante (@NicenNeetz) April 21, 2018
In Scotland, Glasgow Celtic and Rangers offered free tickets and stadium tours, while in Edinburgh, Big Hearts - Heart of Midlothian's community trust - handed out Football Welcomes stickers and leaflets and promoted the initiative online.
We are proud to be participating in @amnesty's #FootballWelcomes initiative this weekend. ⚽️https://t.co/mObqrUkLkg

— Celtic Football Club (@CelticFC) April 18, 2018
In the English Football League, Brentford were at home to QPR, Barnsley were at Leeds and Derby County were at home to Middlesbrough – all held matches for refugee participants in their community programmes, followed by tickets for the game.
Ahead of the @BrentfordFC v @QPRFC game tomorrow, we have teamed up with @QPRtrust for a special @AmnestyUK match for young people from refugee backgrounds. Find out more tomorrow! #FootballWelcomes

— Brentford FC CST (@BrentfordFCCST) April 20, 2018
Meanwhile, at Rochdale vs Bradford, each team invited refugees to the game. When a Bradford community centre said the refugees they work with would love to go but would struggle to get there, one of the fans associations - the Bingley Bantams - stepped in to offer their minibus and made sure the group got there and back safely.
Shout out to @bingley_bantams for stepping in with a minibus to make this possible. Excellent example of how fans can help welcome refugees #FootballWelcomes 🙏🏽⚽️🙏🏽@JamesMason_78 @AnwarU01 @markdoidge https://t.co/TnWHT1CiQH

— Naomi Westland (@NaomiWestland) April 24, 2018
Forest Green Rovers, Reading and Sheffield United were also among clubs offering free tickets, while Hull City organised a tournament and Notts County arranged a stadium tour.
CHARITY: Today we are marking @AmnestyUK's #FootballWelcomes campaign by offering free tickets for our game with @ChesterfieldFC to 60 refugees.

💚| https://t.co/1xvzHEfSN3 pic.twitter.com/B5zotBtdIu

— Forest Green Rovers (@FGRFC_Official) April 21, 2018
Over in non-league football, Bath City and Leyton Orient invited refugees to a game, and City of Liverpool - which works with refugees and people seeking asylum through its community programmes - warmed up in Football Welcomes t-shirts. Refugee teams Nations United in Chichester, Plymouth Hope, Revive Refugee FC in Manchester and Leeds-based football project Yorkshire St Pauli, took part in Football Welcomes with games and tournaments over the weekend.
The Football Association, for its part, produced a video about a football project for refugees run by the Sir Tom Finney Sports Centre in Preston. 
"You can get the most reserved and shy person in the world, but give them a football, and an environment of friends and you will see that transformation." #FootballWelcomes pic.twitter.com/ywXJMIBMO4

— The FA (@FA) April 20, 2018
Refugees welcome
Beyond the weekend, Amnesty's Football Welcomes initiative encourages clubs to work longer-term with other organisations in their communities to welcome refugees and asylum seekers, and promote integration.
'It's great to see women's teams taking part in Amnesty's brilliant Football Welcomes initiative this year. It can be much more difficult for girls and women to access and participate in sport and this sends a clear and important message that football is for everyone. I'm over the moon that the Hammers are joining so many other clubs to say 'Refugees Welcome' this weekend.'

Keira Knightley, West Ham fan and Bend It Like Beckham actor
All over the country ordinary people are going out of their way to welcome and support refugees and asylum seekers, and Amnesty is delighted that so many football clubs are now joining them.
 
These acts of kindness and solidarity are helping people who have experienced the trauma of violence and oppression to feel welcome, less alone and to rebuild their lives in safety in communities across the UK.
'Football, and all sports, are for everyone to enjoy. How wonderful that the football clubs are making this particular stand and ensuring that everybody is included and made welcome.' 

Dame Judi Dench, actor and Everton fan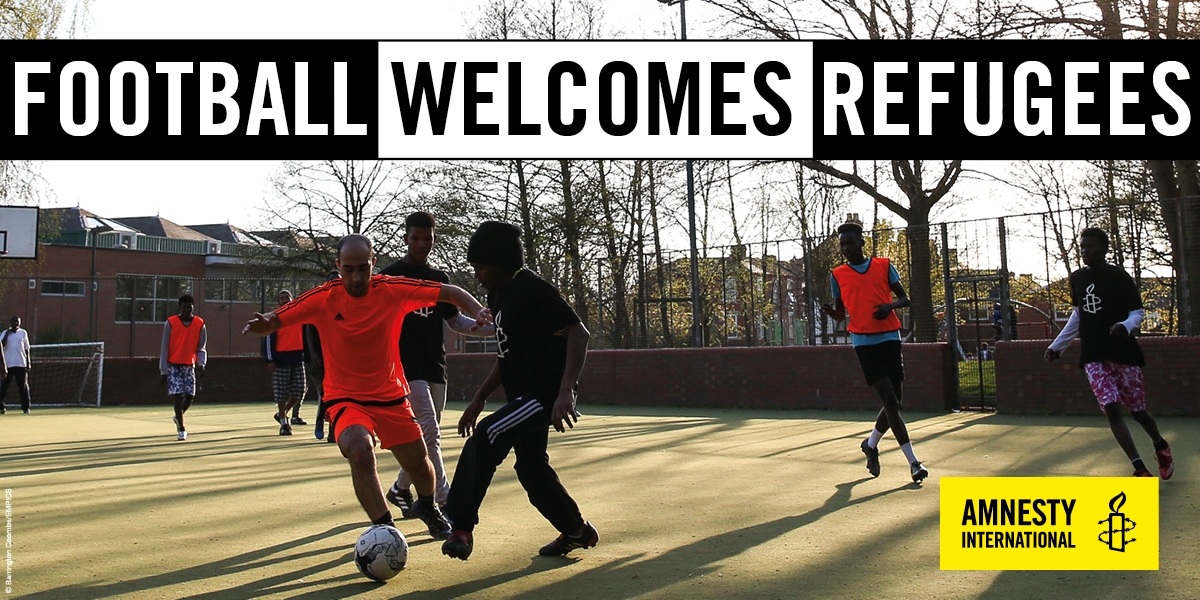 Want to get involved?
If you are a football club/community trust:
For the Football Welcomes weekend, get in touch with a local charity working with refugees and people seeking asylum to offer free tickets to a game, a stadium tour or player visit.
If the first team's opponents on the day have a refugee team in their community programme, invite them to bring the team to play a team from your community programme, followed by lunch and tickets for the match.
Ask the first team players to warm up wearing Football Welcomes Refugees t-shirts, and post some photos on social media using the hashtag #Football Welcomes.
Save a page in the programme and space on the website to tell your fans you're taking part and why, and tell your local media. We will provide template copy, a template press release and social media graphics.
Ask the local charity what support you could offer longer term, such as weekly football sessions and coaching opportunities. 
We can provide guidance on how football clubs/community trusts can work with other organisations in their communities to effectively welcome refugees and promote integration. 
Get in touch for info, and make sure you tell us your plans!
If you are a local charity working with refugees and asylum seekers:
Contact Amnesty or your local professional club to see if they are participating and suggest you could do something together. If there is an Amnesty local or student group in your area, get in touch with them. Arrange a match or tournament with a refugee team from the charity and other local teams. 
If you are an Amnesty local group:
Find out if your local club is participating and see how you can support their activities. If they are offering free tickets to the game on the Football Welcomes weekend, you could work with the club/community trust to identify a local charity that supports refugees and people seeking asylum to distribute the tickets. Ask if you can have a stall at the match. Working with a local refugee charity, you could organise a match or tournament over the weekend.
If you are a student group:
Get in touch with a local charity working with refugees and asylum seekers and offer to organise a match or a tournament with them. Get your university men's and women's teams involved – players can warm up in Football Welcomes Refugees t-shirts and post photos on social media, and if any of the players are qualified coaches they could offer training sessions to local refugee charity.
If you are a school group:
Organise a match or tournament, give out stickers and badges, ask your teachers to use PSHE lessons that week to talk about the experience of being a refugee and how sport can help people adjust to a new country and culture.
Materials available:
'Football Welcomes Refugees' t-shirts, badges, stickers, leaflets.
For more information or to order materials, please email activism@amnesty.org.uk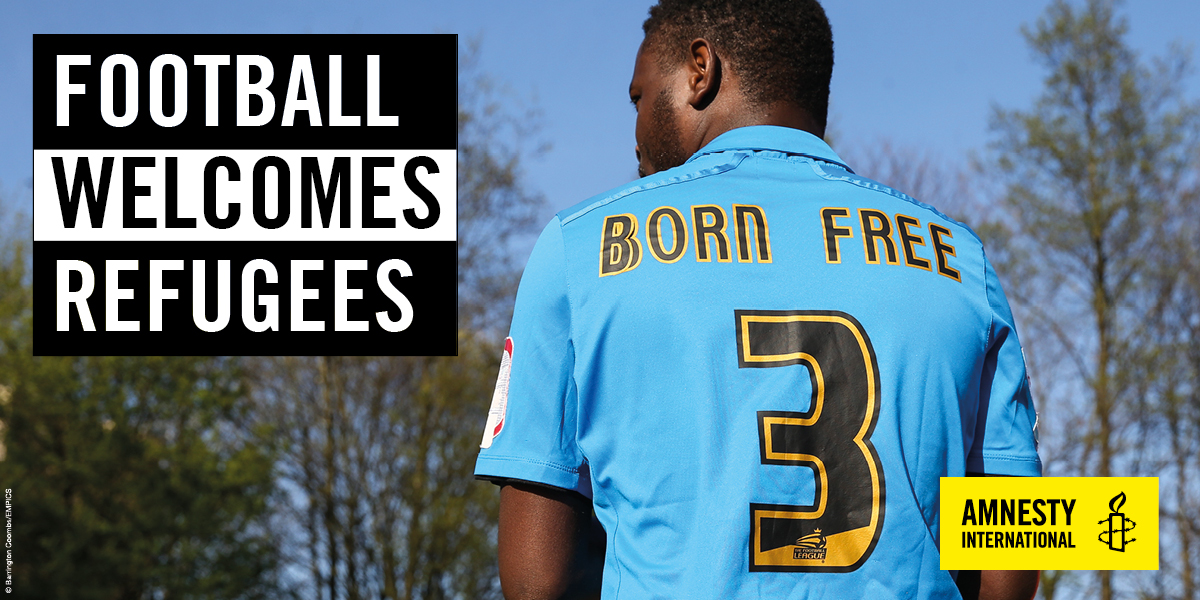 Football Welcomes is part of Amnesty International's I Welcome campaign for a better international response to the global refugee crisis. The campaign encourages local communities to work together to create a more welcoming environment for people fleeing conflict and persecution.
Amnesty Magazine
This article originally appeared in Issue 197 of Amnesty Magazine. To receive your free copy every quarter featuring all the latest news and opinion about human rights become a member today for only £3 a month. Join Amnesty