A family in search of a better life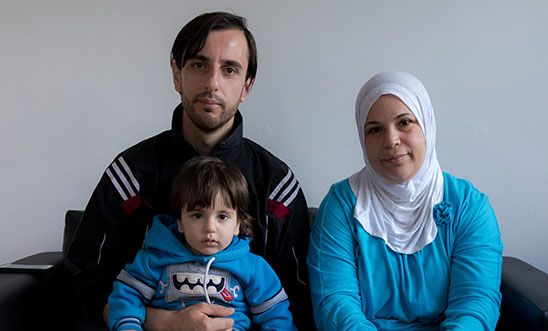 Muhammad, Maha and their daughter Haneen © Jonathan Cornejo
Muhammad and Maha were newly engaged, building a house and planning for the future when Syria's civil war broke out. Within months everything changed, and they faced years of dislocation, prison, torture, and abuse. But now in London, they finally feel optimistic again.
War in Syria
Just before the war broke out, Muhammad was looking to the future. Newly engaged to Maha, he had recently opened a carpentry workshop in his home town, near the famous Crusader castle of Krak des Chevaliers in Homs province.
'We'd never seen arms or guns before, but suddenly they were everywhere'
'We started building a house, a home for the future,' he says. 'I had so many dreams that came to an end when the war started.'
Initially the couple thought the war wouldn't last long, but the violence soon spread to Muhammad's town. 'Assad's army attacked and fighting broke out,' he says. 'There was an attack and a counter attack. We'd never seen arms or guns before, but suddenly they were everywhere. A man from a nearby village was beheaded, and we got scared. Me and my family did not want to fight with either side, so we had to leave.'
With Maha in Damascus, Mohammad and his family fled to southwestern Syria. But the secret service arrested him, his father, two of his brothers, his brother-in-law and his brother- in-law's son after a tip-off from Muhammad's cousin. 'My father used to speak up against the regime and my younger brother participated in a peaceful protest,' says Muhammad. 'We were taken to Damascus, then to Homs prison. Of course, we were tortured. When we arrived in Homs prison, we were given a "Welcome Party" – this means we were all beaten. My father was beaten in front of us. It was too difficult. I spent eight and a half months in prison, my father six months. He was an old man and was severely tortured. He died a month after his release.'
Escape to Lebanon
The security forces continued to harass Muhammad and he realised he had to flee. A relative sneaked him across the border to Lebanon, and Maha joined him in Tripoli.
'You are dirty refugees'
'People treated us terribly,' says Muhammad. 'The room we rented was in a very bad condition, not good even for animals. We had bad neighbours and were constantly attacked verbally by the locals. They kept telling us, "You are dirty refugees".' Maha was also targeted because she was a woman. 'I was insulted and abused verbally by many men,' she says. 'I started spending all my time in my room, hardly going out. I was clearly targeted as a woman, in addition to being Syrian. I felt completely unsafe.'
The couple moved several times, but were badly treated wherever they went. 'There was daily verbal abuse,' says Muhammad. 'On many occasions, our employers refused to give us our wages, and we just had to accept it. One day, local men attacked my brother, took his mobile and money, and stabbed his hand. They shouted, "Get lost Syrians". He was bleeding in the street and no one came to help. He was lucky they did not kill him and throw him in the river like they did a few weeks earlier with another Syrian man.'
The worst incident occurred just a week after the birth of their daughter, Haneen. 'We were living in a flat and were five days late in paying the rent,' says Muhammad. 'First the landlord cut off our water and electricity, then he gave me less than 10 hours to find another flat, then he threw us out on the street. It was the middle of winter and freezing cold. Maha had not even recovered from the birth. In the end, my sister sent me the rent from Turkey: when the landlord saw the money he immediately changed his mind and said, "Welcome, no problem".'
Home in London
Finally, after more than three years, Mohammad and Maha managed to claim asylum in the UK, and now live in a small flat in London.
'Our neighbours always greet us and ask if we need anything or if they can help with anything'
Initially they were apprehensive. 'But when we saw people waiting for us at the airport we felt reassured and welcomed,' says Muhammad. 'Our neighbours always greet us and ask if we need anything or if they can help with anything. We live above a nursery and the manager came and talked to us and said she would have our daughter in their nursery. They found someone to teach us English, helped us to lay down carpet, and set up the internet for us. The most important thing now is to learn English, so we can mix properly with people and I can find a job.'
For Maha, meanwhile, the move to London means they can once again plan for the future. 'We want a better life than the one we lived in Syria and Lebanon,' she says. 'In this country, education is great and I think it's important that Haneen gets a brilliant education. Frankly, we feel safe here and we feel there is a good future for us as a family.'