Enter the 2018 Marsh Awards and win £500 towards your activism ideas!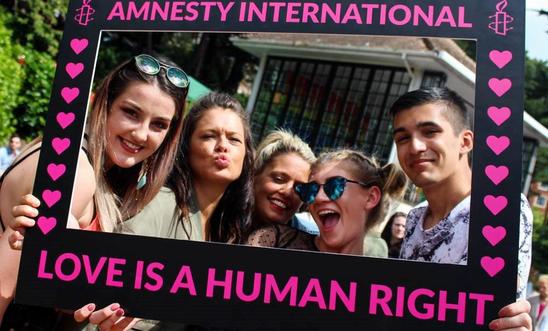 Selfie frames at Bourne Free Festival 2017
If you've got innovative ideas for increasing the impact of your group's activism, then we want to hear from you!
Every day, Amnesty groups educate and empower people in amazing ways to take action on human rights in their communities. Sometimes though, we know your fantastic ideas could do with a cash injection so you can make them happen.
This is where the Marsh Awards for Human Rights Activism can help. We have partnered with the Marsh Christian Trust to recognise your passion and encourage your creativity by offering three prizes of £500, available for groups with the most inspiring ideas to bring about human rights change.
Who can enter?
Any affiliated Amnesty Group can enter - there are three categories: Local, Youth and Student.
If you are working with other groups on a project, you can enter a joint submission. 
What kind of ideas are you looking for?
Your ideas need to positively impact people's understanding of human rights. Aside from that, the only limit is your imagination!
Last year's winners had radically different, but equally impactful, ideas:
Bournemouth, Poole and Christchurch local group came up with the innovative idea of creating "selfie frames" using our 'Love is a Human Right' branding to use at the annual Bourne Free Festival. They aimed to engage people by getting them to take a selfie within the frame and share these on social media with an Amnesty hashtag.
Royal Holloway University group engaged students in our I Welcome campaign through holding a picnic event on their main campus quad post-exam season. They set up an Amnesty stall selling picnic boxes containing a variety of snacks, campaign materials and facts on the refugee crisis. There was also live acoustic music, large picnic blankets and garden games.
Clyst Vale Amnesty School Group invited a select number of Year 5 and 6 students from a local primary school in for a day, to teach them about the importance of human rights through creative and engaging activities. The idea was to create ambassadors for human rights in their primary schools who will go on to inspire others.
How do we enter?
To enter, you need to download and compete the application form below detailing what your ideas are and how they meet the criteria. Please return it by email to activism@amnesty.org.uk no later than Thursday 8th March.
Questions?
Please feel free to email activism@amnesty.org.uk with your query and include 'Marsh Awards' in the subject.
Downloads