Free Aser, tortured into 'confessing' when he was 14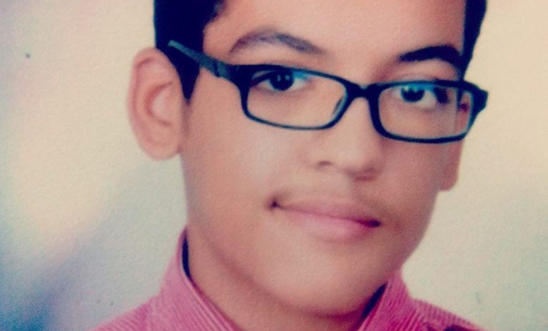 Tell Egypt to release 14-yr-old Aser Mohamed who was tortured for a 'confession' © Private
Aser Mohamed is currently held at the Talbeya police station in Giza, Egypt with 12 other detainees in a 4x6 metre cell. He is not permitted to leave this cell at any time and his family has not been allowed to visit since 2 August.
Aser is 14 years old.
Help reunite Aser with his family - please text FREE + your name to 70505
(Eg. FREE John Smith.)
Forcibly disappeared
They said they were just taking him away for a few hours for questioning, but instead he was gone for 34 days. Nobody knew where and nobody knew why. The National Security Agency (NSA) officers that raided his home in the early hours of 12 January failed to produce an arrest or search warrant and later even denied they were holding Aser.
Aser reappeared on 15 February before the Supreme State Security Prosecution for questioning – without a lawyer. He told the prosecutors of being subjected to electric shocks, and being suspended by his limbs for hours on end - until he 'confessed'. The charges against him? Allegedly belonging to a banned Muslim Brotherhood group and attack on a hotel.
Unfair trial
Not only was Aser held unlawfully for 34 days, he could face 15 years in prison based on a grossly unfair trial and a 'confession' extracted through torture.
Despite his claims, there has been no investigation into the use of torture or ill-treatment. Instead, Aser says the prosecutor threatened to send him back to the NSA to face further torture if he tried to retract his 'confession'. He ordered Aser's pre-trial detention even though Egypt's laws prohibit this for individuals under 15-years-old.
The rise of enforced disappearances
At least 3 to 4 people disappear each day across Egypt. This rise in enforced disappearance has coincided with the appointment of the Minister of Interior, Magdy Abd el- Ghaffar. He is a long-serving officer under the State Security Investigations service, which is the secret police under former President Hosni Mubarak – intent on deterring opposition and preventing peaceful dissent.
Aser's hearing is scheduled for 8 October. If convicted he could face up to 15 years in prison.
Aser's detention is unlawful - call on the Egyptian authorities to release Aser Mohamed – Text 'FREE' plus your name to 70505
(Eg. FREE John Smith.)
Texts are charged at your standard network rate, no more than 10p. Please ask bill-payer's permission. By giving us your number you agree to future communication from us by SMS. To unsubscribe, text STOP to 70505 at any time. Full terms and conditions
What happens to my text?
We will add your name – but not your phone number – to a co-signed letter to Nabil Sadek, Public Prosecutor and Magdy Abdel Ghaffar, Interior Minister.
The letter will:
Call on the Egyptian authorities to release Aser Mohamed immediately as his detention is unlawful;
Call on them to, in the meantime, allow him full access to his lawyer, medical assistance and family;
Call on them to end all ill-treatment of Aser Mohamed and to bring all those responsible for torture and other ill-treatment to justice in fair trials.
Send a letter
If you wish to send your own letter to the Egyptian authorities, please do so in English or Arabic or your own language calling for the above, and address it to the contacts below.
Please send appeals before 11 October 2016 to:
Public Prosecutor
Nabil Sadek
Office of the Public Prosecutor
Madinat al-Rehab
New Cairo, Arab Republic of Egypt
Salutation: Dear Counsellor
 
Interior Minister
Magdy Abdel Ghaffar
Ministry of Interior
Fifth Settelment, New Cairo,
Egypt
Fax: +202 2794 5529
Email: center@moi.gov.eg or E.HumanRightsSector@moi.gov.eg
Twitter: @moiegy
Salutation: Your Excellency
And copies to:
Deputy Assistant Minister of Foreign Affairs for Human Rights
Laila Bahaa Eldin
Ministry of Foreign Affairs
Corniche el-Nile, Cairo, Egypt.
Fax: +202 2574 9713
Email: contact.us@mfa.gov.eg
Twitter: @MfaEgypt
Also send copies to diplomatic representatives accredited to your country. HIS EXCELLENCY MR NASSER AHMED KAMEL ALI, Embassy of the Arab Republic of Egypt, 26 South Street W1K 1DW, 020 7499 3304/2401, Fax 020 7491 1542, egtamboff@gmail.com, and eg.emb_london@mfa.gov.eg