Saving lives in the Mediterranean Sea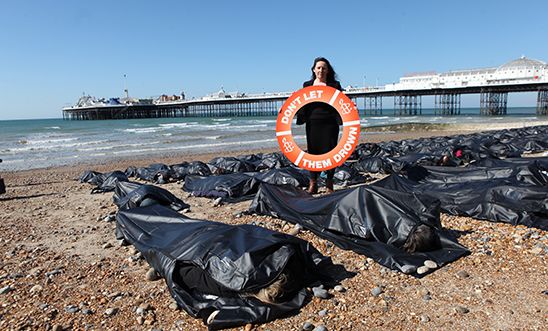 In April 2015, more than 1,000 people drowned in one week as several overcrowded boats sank in the Mediterranean and Aegean Seas.
The risk of dying while attempting to cross the open Mediterranean Sea in a rickety boat was as high as 1 in 16, making this the world's deadliest migration route.
For months, Europe's leaders had turned a deaf ear to repeated warnings that the sea was turning into a graveyard. The result of their indifference was devastating.
'The equivalent of five passenger planes full of people have drowned last week alone, and this is only the start of the summer. If they had been holiday makers, instead of migrants, imagine the response.'

Kate Allen, Amnesty UK Director
April 2015 confirmed as the cruelest month: 15K Mediterranean crossings & 1300 deaths, to date. Worst UNHCR has seen pic.twitter.com/2mrXkLTTYm

— Adrian Edwards (@AdrianEdwrds) April 21, 2015
Spurred by these shocking tragedies and the international outrage that followed, European leaders finally agreed to provide more money, and send more boats and planes for rescuing people in the areas where most shipwrecks happen.
Last year, this had been left to the Italians, and other countries – including the UK – had opposed their life-saving operation, called Mare Nostrum.
What if thousands of bodies were washing up on our shores?
Together, our campaigning and advocacy over the past year has played its part in achieving this welcome, though belated, European response.
In April, we took hundreds of body bags to Brighton beach the day before David Cameron could decide to pledge UK support to help stop the needless deaths. 
Imagine if these were real bodies on #Brighton beach. It's not happening here but it's happening now #DonLetThemDrown pic.twitter.com/OpjkgYvjff

— Naomi Westland (@NaomiWestland) April 22, 2015
Local activists came out in force to join us, and almost 50,000 of you added your name to our petition.
#DontLetThemDrown Today in body bags Porty beach. Please sign petition save lives in Med now https://t.co/o09BlaoreG pic.twitter.com/CDZoEsvcqM

— St.MarksAmnestyGroup (@StMarksAmnesty) April 26, 2015
Our director, Kate Allen, went on a mission to meet shipwreck survivors, the coastguard and officials in Lampedusa – the Italian island on the frontline of the crisis in the Mediterranean. In the face of widespread political inaction and indifference, the people she met were overwhelmed by your support.
UK contribution to search and rescue efforts
Since the EU significantly increased search and rescue, the death toll has dropped dramatically to 1 in 427 – thousands of lives have been saved.
In May, HMS Bulwark – supported by three helicopters – joined the search and rescue operations, after the Prime Minister David Cameron had urged that the European response 'has got to be about saving lives… [which] means rescuing these poor people'.
Since then, the Navy ship has rescued more than 4,000 people at risk at sea.
HMS Bulwark saves 1,200 desperate migrants stranded in Med in biggest rescue yet http://t.co/8VUwthcKLy pic.twitter.com/M0oZMA8kjD

— Daily Mirror (@DailyMirror) June 7, 2015
Her captain has rightly praised the life-saving work of his team, and has spoken about the people whose lives they have saved. After her first major rescue, he said:
'In navy parlance these precarious boats were 'full to the Gunwales', including many people with dehydration, those with injuries, very young children and several pregnant women. The weather at the moment is extremely hot so my ship's company and I are very pleased that we were able to bring them to safety. It's unclear what would have happened to them but the risk of further injury or worse is of course considerable.'

Captain Nick Cooke-Priest of HMS Bulwark, May 2015
On 17 June, at Prime Minister's Questions, George Osborne – standing in for the Prime Minister – confirmed that, although HMS Bulwark would soon reach the end of her deployment, the UK 'will continue to play our full part' in search and rescue operations. Since then HMS Enterprise has replaced HMS Bulwark. It does not have the same level of capacity to assist in search and rescue as HMS Bulwark, but we understand it will continue to respond to search and rescue needs.
HMS Bulwark and the sailors, marines and others involved in this have done vital work – the UK must ensure George Osborne's commitment is met.
Tackling the wider issues
Meanwhile, EU leaders are discussing how to address wider issues – both the causes of the tragic deaths we have seen at sea and how to respond to the needs of those rescued. 
A comprehensive solution to this crisis will require co-operation and solidarity – both across Europe and with much poorer countries outside of Europe.
The absence of safe and legal routes for refugees to seek and receive asylum in Europe has forced tens of thousands of people into the hands of people smugglers, and in turn onto overcrowded and unseaworthy boats. We're calling on European countries to make safe and legal routes available for asylum-seekers.
Most people making the dangerous crossing or rescued at sea will first arrive in Italy or Greece –responsibility for refugees must be shared more fairly among European countries.
Poorer countries continue to accommodate and support the greatest number of refugees. We're calling for European countries to provide more resettlement places.