Mediterranean crisis: 'We don't let people drown'
I've just returned from meeting with shipwreck survivors, the coastguard and officials in Lampedusa – the Italian island on the frontline of the crisis in the Mediterranean Sea. It was incredibly harrowing but, as always, I was truly touched by the bravery of those I met.
People like the 19-year-old woman who told me that her mother was killed and her sister was separated from her while they were trying to escape Boko Haram. She then met a man who took her to Libya and prostituted her. She told me how she had to run for her life to get away from him, and about the discrimination and violence directed at black Africans in Libya.
Captain of the coastguard boat tells me he was handed a 20 day old baby to save. pic.twitter.com/O6O5FjKqph

— Kate Allen (@KateAllenAI) April 23, 2015
Survivors
At the reception centre in Lampedusa, I met a small group of Nigerian women who had been rescued by a German ship. One woman had four people sitting on her legs during the 30 hours she was at sea – such is the overcrowding on boats. Her legs were so swollen she had trouble walking. 
Another who was eight-months pregnant was clearly traumatised – her baby had stopped moving and she was waiting to see the doctor.
I also met a 15-year old-Somali boy called Ali. He'd been on his own since he was just nine years old, living on the streets of Mogadishu. He and a friend managed to get the money to make the trip to Europe, but his friend was killed on the road. He had to bury his friend, just a child himself, and continue alone to Libya.
You can read more of Ali's story in this blog post by my colleague, Conor Fortune.
The doctor
I spent one morning with the head of the local hospital, who told me that he and his small team examine all arrivals, dead and alive. He told me about a mother and new-born baby who he arranged to be buried together in the same coffin, leaving the umbilical cord intact.
Another time, he inspected the body of a 20-year-old woman who'd been put in a body bag. He saw signs of life and started resuscitation; half an hour later she was breathing again. She now lives in Sweden.
He had many, many heart-wrenching stories and I struggled not to cry.
Now in Sicily. Heading to a reception centre. Still have Dr Bartalia and the tears in his eyes in my mind. Such an extraordinary man.

— Kate Allen (@KateAllenAI) April 24, 2015
What if bodies were washing up on our shores?
The mayor of Lampedusa, Giusi Nicolini, is an impressive woman, incredibly clear and forthright.
'We can't condemn people to die because they are black. We don't let people drown.'
Her opinion is shared by every rescuer and medic I met.
Giusi Nicolini Mayor of Lampedusa 'we cannot condemn people to die because they are black.' pic.twitter.com/LzWmaeDnN8

— Kate Allen (@KateAllenAI) April 23, 2015
On the ground, amongst the people who are actually helping, I didn't hear any hostility towards the migrants and refugees. Their resentment is against the international community.
Over and over again, people told me that the numbers of migrants aren't huge. If the rest of Europe would only play its part, the situation could be managed easily.
When I showed people the picture of the body bags we lay on Brighton beach, people were very moved. The people of Lampedusa and Sicily are struggling against political inaction and callous indifference – when they see that people in the UK care, they know they're not struggling alone.
Laying out 100s of body bags on Brighton beach. Imagine if disasters in med happening here Http://www.amnes... https://t.co/m6ZCkJGtt9

— Amnesty UK (@AmnestyUK) April 22, 2015
The EU's response does not go far enough
Europe's leaders have committed more resources, but the geographical limit in place means that those resources are still not enough.
The yellow on this map is the area covered by Triton – the border patrol that the EU announced increased support for, following their crisis talks. But the orange is where the majority of shipwrecks happen. The two do not match up.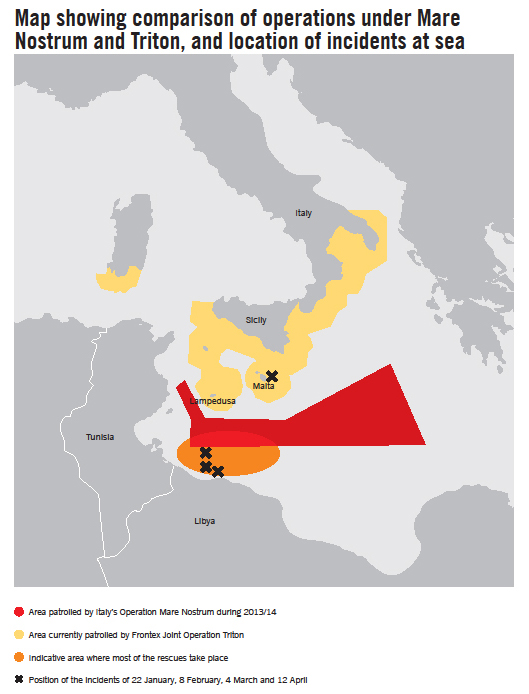 The red shows the area covered by Italy's search and rescue mission – Operation Mare Nostrum – which rescued tens of thousands. But other EU governments, including the UK, refused to support it and it ended last October.
We won't stop pushing until leaders agree to the search and rescue operation beyond the 30 nautical mile limit currently in place.
Unless the boats go further, we can expect more men, women and children to drown this summer.
Please make sure people know the truth – Europe is not doing enough.
About Amnesty UK Blogs
Our blogs are written by Amnesty International staff, volunteers and other interested individuals, to encourage debate around human rights issues. They do not necessarily represent the views of Amnesty International.
View latest posts