How to get help if you're experiencing domestic abuse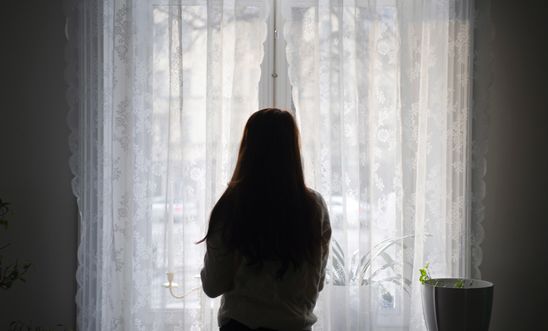 This is a difficult time for many of us. If you are worried about experiencing domestic abuse or hurting others throughout the coronavirus pandemic, help is available.
Domestic abuse is not always about physical violence.
It's a pattern of controlling behaviour in a relationship which can be psychological, emotional, sexual and economic.
It can happen to anyone
Often perpetrators use what's going on in the external world as a way to tighten control.
Reports are showing how abusive partners are using rules around social distancing – the fear and worry generated by the pandemic – to scare and control partners.
Where you can get help
If you (or someone you know) is ready to seek help, call the National Domestic Abuse Helpline on 0808 2000 247.
There's lots of information on covering your tracks online Chayn also has a DYI guide to keeping safe online in 9 languages.
If you are in immediate danger call 999
Ask for the police – they are responding to emergency calls.
If you are in danger and unable to talk on the phone, call 999 and then press 55. This will transfer your call to the relevant police force who will assist you without you having to speak.
National advice
National Domestic Abuse Helpline – 0808 2000 247 free phone, open 24–hours–a–day
Respect (for perpetrators) If you are worried about hurting someone closed to you call the Respect phoneline for support and help to manage your behaviour – 0808 8024040
Women's Aid offers email and chat options (chat service open Monday to Friday 10:00am – 12:00pm)
Galop offers specific help for LGBTQ people – 0800 999 5428 or email help@galop.org.uk
Respect – Men's Advice Line – 0808 801 0327
National Stalking Helpline/Suzy Lampugh Trust – 0808 802 0300
Government Forced Marriage Unit – 020 7008 0151
Government FGM Unit – 0800 028 3550
Rights of Women operates several advice lines on family law, criminal law, immigration and asylum law and sexual harassment at work.
Northern Ireland
24 Hour Domestic & Sexual Violence Helpline. Open to all women and men affected by domestic & sexual violence - 0808 802 1414
Freephone from all landlines and mobiles. Translation service available.
Text: 07797 805 839
Email: 24hrsupport@dvhelpline.org
Wales
Live Fear Free Helpline - 0808 801 0800
Helpline provides support in English and in Welsh and access to an interpreter for callers with language support needs. Open 24 hours. For anyone experiencing domestic abuse and sexual violence, their friends and family. Free to call and calls do not appear on itemised bills.
Email: info@livefearfreehelpline.wales
Scotland
Scotland's Domestic Abuse and Forced Marriage Helpline - 0800 027 1234
Webchat: https://sdafmh.org.uk/
The Disclosure Scheme for Domestic Abuse Scotland gives you the right to ask Police Scotland to look into the background of someone you think may be abusive. This could be your own partner, or the partner of someone you know and are concerned about. If they find any history of domestic abuse or violent behaviour and consider that the person poses a risk, they may consider telling their partner that they are at risk of domestic abuse.
If you are think you or someone you know is being abused, you can apply to the disclosure scheme on Police Scotland's website. 
LGBT Domestic Abuse Scotland offers specific support and advice for LGBT people and professionals:
Rape Crisis Scotland - 08088 01 03 02 (free number) every day, 6pm to midnight.
Email: support@rapecrisisscotland.org.uk
Scottish Women's Rights Centre: provides free legal information to women who have experienced or are experiencing gender based violence including rape, domestic abuse, sexual harassment, stalking, trafficking, "honour" crimes and forced marriage:
Economic abuse
Surviving Economic Abuse is a specialised charity, there's also advice from HM Treasury on how to access financial help at this time.
Specialist support for BME and migrant women
If you're a BME or migrant woman experiencing domestic abuse – or scared that you might – specialist organisation are there to help.
Imkaan has a national list of organisations that offer specific support for BME and migrant women.
LAWRS – Latin American Women's Rights Service (Español, Português).
0771 928 1714 (Monday to Thursday 10 AM - 1 PM)
0759 597 0580 (Monday to Friday 10 AM -1 PM)
If calling is not safe, please send us an email to referrals@lawrs.org.uk including your name, telephone and a safe time for us to return the call.
LAWA – Latin American Women's Aid is now operating a phoneline 0753 442 4826 – 0746 200 3324 – 0783 858 6583 from 9am to 5pm.
Southall Black Sisters – they offer specialised support for women with who can't access public funds.
Chayn – online support in multiple languages.
NSPCC provides a free, anonymous, 24 hour helpline that you can contact if you are at risk, or are concerned about someone else being at risk, of FGM. The NSPCC telephone number is 0800 028 3550 and their dedicated email address is fgmhelp@nspcc.org.uk. 
FGM Aware who provide resources and help
Cedar Network (for children and young people)
The Cedar website also has contact details for all Cedar projects in Scotland, so you can find the phone number for your local Cedar project.
Amina: The Muslim Women's Resource Centre helpline - 0800 801 0301
SHAKTI Women's Aid - 0131 475 2399.
Hemat Gryffe Women's Aid 24 hour emergency service - 0141 353 0859
NHS charges
The NHS will not charge you to diagnose or treat of coronavirus (COVID–19). This applies to everyone living in the UK, regardless of your immigration status.
No immigration checks are required to be tested or treated for COVID–19.
Visas
If your visa is about to expire or has expired after 24th January – and you cannot travel due to COVID-19, the Home Office has stated that you will be able to extend it until 31st May 2020.
What to do if you think a loved one might need help
If you are worried about a loved one's relationship or if you notice their behaviour is unusual: DON'T assume – but DO ask what's going on.
Consider asking yes or no questions in case someone else may be listening.
Women's Aid and Chayn have more advice on how to support a friend.
Checking in regularly is important, listen and believe what your friend says. – even if they don't want to seek help immediately.