Donate today and double your impact
Donate today and double your impact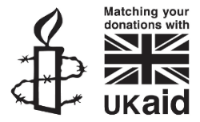 Right now you have a unique opportunity to make your gift go even further.
Until 18 July, the UK Government will match your donation for the first three months – and their money will go towards our work helping to end child marriage and FGM in Burkina Faso and Sierra Leone.
Why donate to Amnesty?
We are a movement of ordinary people from around the world standing up for humanity and human rights.
And we're a movement that produces extraordinary results. Prisoners of conscience are released. Death sentences are commuted. Torturers are brought to justice. Governments are persuaded to change their laws and practices.
Our achievements have a huge impact on the lives of individual people. And your support makes us even stronger.