Amnesty UK Children's Human Rights Network has been working with The Project for the Registration of Children as British Citizens (PRCBC) for almost 4 years, campaigning for the citizenship rights of young people in the UK.
The Problem
There are around 120,000 children in the UK who have the right to register citizenship here. However, they face a number of challenges.
The first is that many of them do not know they will need to register their citizenship. Many of them were raised in the UK, attended school here - many were even born here. But their rights are not automatically granted.
The second problem is that, if they do know they need to register, the UK government charges a huge, profit making fee to every child. The government makes around £1000 in profit from each application, according to their own figures.
There's no fee waiver for children in poverty, or for children in care. There's no reduction if a family has multiple children.
For an awful lot of children and families in the UK, over £1200 is simply prohibitively expensive - and so the children cannot register at all.
The Effect
If children don't register their citizenship by the time they turn 18, they lose some of their rights. Even before they are 18, they may have problem accessing healthcare, traveling, social supports and much more.
Quite simply - the UK Government is pricing young people out of their rights. This cannot continue. Rights should not be and must not become something only the wealthy can access.
The Campaign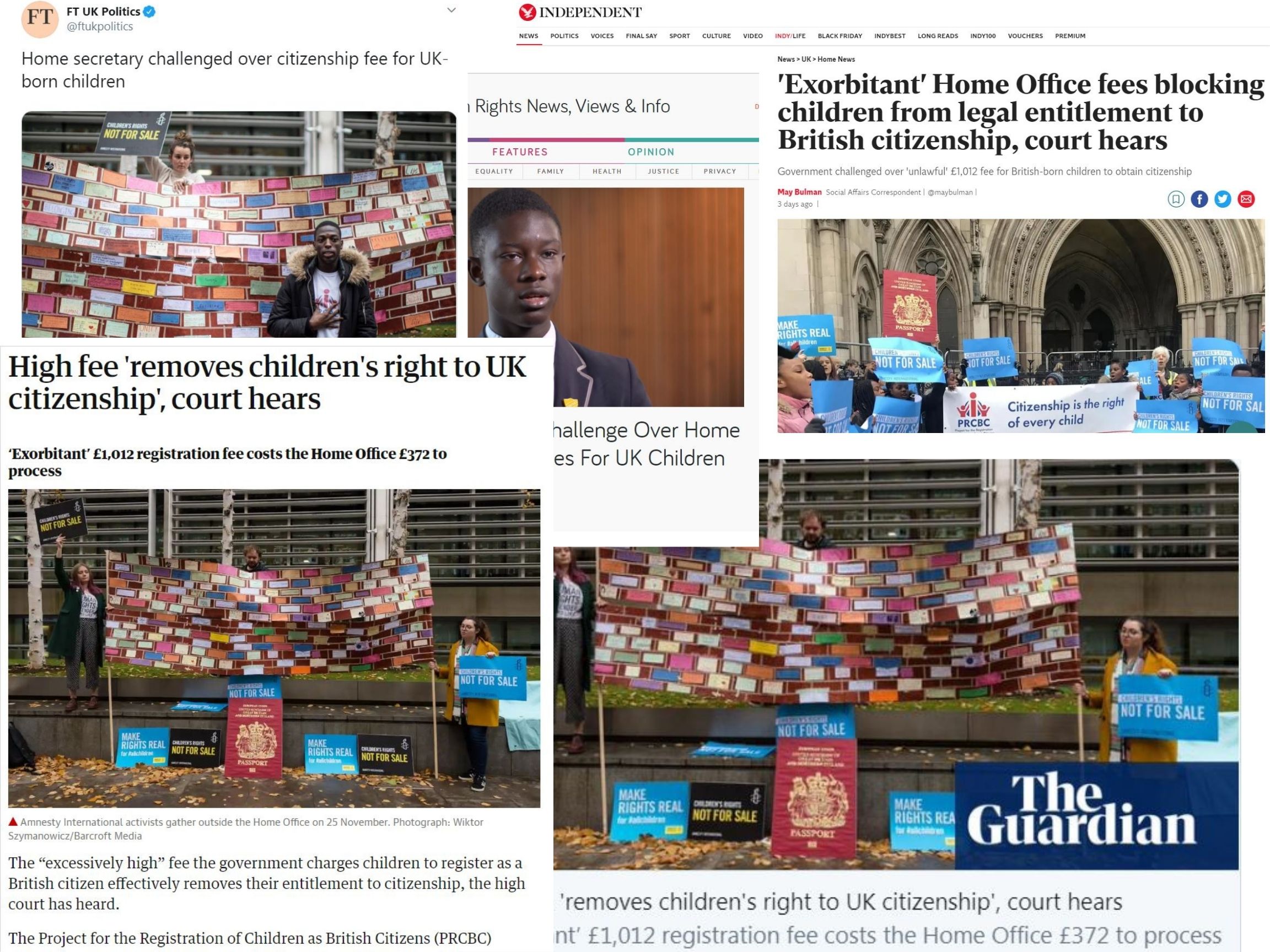 The Children's Network and PRCBC have worked together closely to tackle the problem in a number of ways.
Between us, we have given hundreds of talks at groups, schools, children's festivals and conferences, raising awareness of the problem and raising almost 50,000 petition signatures.
We have involved teaching Trade Unions, to make sure as many teachers as possible are aware of the situation some of their children may be facing - with articles in their newsletters, events at the Trades Union Congress, and more.
PRCBC have challenged the law through the courts - winning a judgement in 2019 that the fee did not live up to the Government's legal responsibility to consider "the best interest of the child". The government are appealing the verdict, but this is a huge step in the campaign.
This legal challenge has been supported by Amnesty International, both in court, and through supporting demonstrations outside of the high court during the hearings.
We've held interactive demos on parliament square, and outside the home office.
The Result
The campaign has made spectacular progress over the last few years - with the court case ruling giving real hope that the fee will be dropped. The campaign has also gathered huge, national interest - with press stories in the Financial Times, Independent, Guardian and more.