China's Uighur Muslims: the truth behind the headlines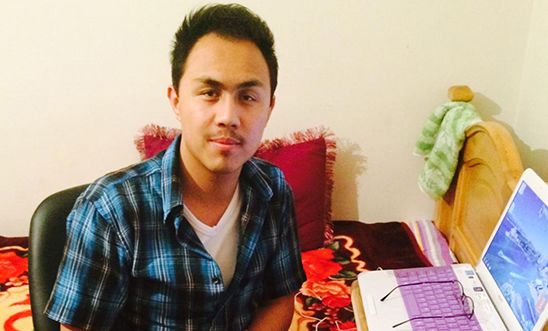 Yiliyasijiang Reheman: missing since 1 Sep, 2017 © © Private
Contracts before humanity
This week saw a furore in the news when Arsenal player Mesut Ozil took to social media condemning China's treatment of Uighur Muslims.
#HayırlıCumalarDoğuTürkistan ?? pic.twitter.com/dJgeK4KSIk

— Mesut Özil (@MesutOzil1088) December 13, 2019
Beijing was quick to brand his claims as "fake news" and subsequently China's state broadcaster CCTV-5 refused to air Sunday's Arsenal - Manchester City match. At the same time, Chinese Gunners fans (of which there are many) reportedly burned Arsenal shirts protesting the player's comments. His social media accounts in China have been blocked and his name removed from search listings.
While China's may be an expected reaction, those closer to home have been perplexing and disappointing. Arsenal football club were quick to distance themselves from Mesut's comments saying they remain "apolitical".
"What he says is about himself and not Arsenal," said ex-Gunners boss Wenger.
While Manchester City star Yaya Toure commented:
"Footballers have to stay with football and politicians to politics...because it's going to attract a lot of problems".
One wonders if Colin Kaepernick, Muhammed Ali or Megan Rapinoe would agree?
Perhaps it's not so surprising after all, given the Premier League have a TV deal with China worth £8.75m to each Premiere League club until 2022.
It seems In 2019, despite a decade of whistleblowers, #MeToo and protesting, we're still not ready to put humanity before big contracts.
The truth behind the headlines
Whether you believe sports should be an ideological battleground or not, we know that the Uighur Muslim community is facing grave persecution in China.
We have conducted hundreds of interviews on the ground; with the relatives of many that have gone missing, as well as those who claim to have been imprisoned and tortured in detention camps. Furthermore, we have acquired and analysed satellite imagery and official Chinese documents, all of which indicate a mass-internment programme.
Here's what we know:
An estimated one million Muslim people are being held in Xinjiang, northwest China
The Chinese government denies their existence describing them instead as "transformation-through-education centres" and that people go their voluntarily. In actual fact these are detention camps for torture and brainwashing of anyone suspected of disloyalty.
People are sent there by force, and it is up to the authorities to decide when a detainee is transformed or has "graduated".
Those that do put up resistance are punished - ranging from verbal abuse, food deprivation, solitary confinement and beatings. There have even been reports of deaths inside the facilites including suicides.
China organises "have a look" propoganda tours for foreigners - one of which Mesut Ozil has been invited to - while independent UN experts have been prevented from accessing the region.
The justification? Tackling religous extremism and radicalisation. Particularly following a series of violent incidents in the capital Urumqi in 2009 and the knife attacks at Kunming railway station in southwest China in 2014.
Labelled "extremist" for avoiding alcohol
In enacting these so-called security measures, the Chinese government has given itself free rein to persecute an entire faction of its population. In 2017, a regulation was passed that meant anyone could be labelled an "extremist" for reasons such as refusing to watch state television, having an "abnormal" beard, wearing a veil or headscarf, regular prayer, fasting or even avoidance of alcohol.
Anyone and everyone in Xinjiang is at risk. The area is awash with facial-recognition surveillance cameras, backed by the use of artificial intelligence and mass DNA collection. Security checks are a routine part of life and even people's phones aren't off limits. There have been cases of people being sent to a "re-education camp" just for using Whatsapp. A natural, and perhaps desired, result is a pervasive climate of fear.
Muslim minority groups are either afraid for themselves or for those loved ones that have already gone missing (the families of those that are arrested and detained are usually kept in the dark about their whereabouts). As a result they are beginning to cut off all contact with friends and relatives outside of the region or abroad for fear of being arrested.
Take action for Yiliyasijiang Reheman
Yiliyasijiang Reheman is one such person who may be held in these camps - and he needs your help. Yiliyasijiang went missing in 2017 and is believed to have been taken to a Chinese 're-education camp'. His wife and young children are devastated and miss him every day.
Please help get him back to his family by emailing the President of China demanding his release.