Hundreds of human rights lawyers targeted in China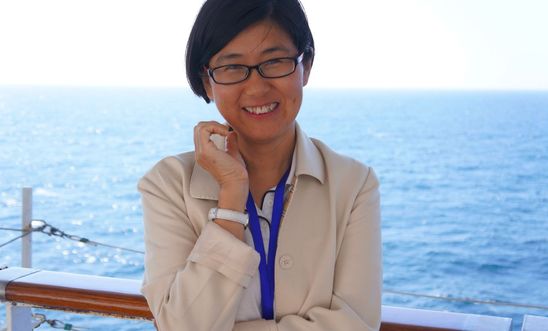 Wang Yu, Chinese human rights lawyer who went missing on 9 July 2015 © Private
3am, 9 July 2015: Wang Yu, a human rights lawyer, sends a worried text to her friends - her internet and electricity has been cut off.
4:17am: She sends another message - people are trying to break into her home.
A few hours later that morning, her friends could no longer get in contact and she wasn't at home.
Wang Yu's disappearance marked the start of a nationwide crackdown on human rights lawyers by the Chinese authorities.
Over 230 lawyers and activists have been targeted, reported missing or detained by the police across the country in a widespread crackdown on rights.
'Such an unprecedented nationwide crackdown can only have been sanctioned from within the central government'
William Nee, Amnesty's China Researcher
Many of those arrested have worked on high-profile human rights cases that are deemed damaging to the Chinese government.
At least 25 lawyers are still missing or detained by police - we fear they may face state security charges, which could carry prison sentences of up to 15 years.
We are demanding that the authorities immediately confirm the location and legal status of all the lawyers currently missing, including Wang Yu, Zhou Shifeng, Li Heping and Sui Muqing. If detained these lawyers must themselves be allowed access to their own legal representatives.
Wang Yu's son abducted
Family members have also paid the price for their connection with human rights lawyers.
Last week, Wang Yu's son, 16-year-old Bao Zhuoxuan, went missing along with activists Xing Qinxian and Tang Zhishun.
Bro Zhuoxuan and the two activists had been in staying in Burma, close to the border with China. At least a dozen police officers entered the guest-house where the three were staying.
After being 'disappeared' for a few days, Bao Zhuoxuan was taken to his grandparents' house back in China, where he and his grandparents are now under house arrest.
Bro Zhuoxuan is just 16. His mother is in detention; his father is also detained by the security forces. State officials interrogated him and confiscated his passport back in July, preventing him from travelling to take up a place at school in Australia.
Smear campaign
Wang Yu has been the focus of a ferocious attack in state media since she was arrested.
An official newspaper of the Chinese Communist Party, The People's Daily, accused lawyers and activists of being part of a criminal operation to 'undermine social stability'.
The newspaper accused the Beijing-based Fengrui Law Firm of being a criminal gang. The firm has defended individuals in high-profile human rights cases, including Cao Shunli, an activist who died of illness after the state denied her medical attention, and the case of prominent Uighur academic Ilam Totti.
Our campaign for justice
Thank you to the 29,000 of you signed our petition in September and October 2015, demanding that Chinese authorities in the UK investigate and work to bring an end to the harrasshment of more than 230 lawyers and activists who have been targeted and branded as belonging to 'criminal gangs', in a widespread crackdown by authorities in China since July 2015.
On Friday 16 October we handed your signatures in to the Chinese Ambassador in London, and to Prime Minister David Cameron, calling on government to raise the case of these lawyers and activists during the state visit of Chinese President Xi Jinping to the UK, the following week.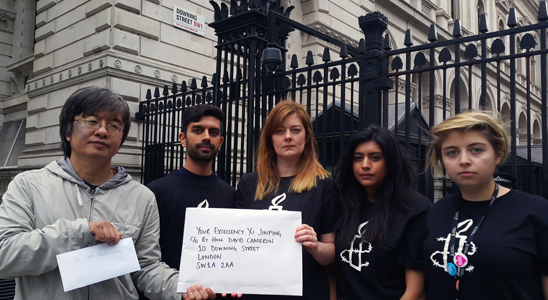 The UK must stop turning a blind eye to the plight of lawyers, campaigners and journalists that have been locked up simply because they have challenged the Chinese authorities.
Unfortunately, during the state visit, it seemed like the crackdown had reached the UK with the arrest of Tiananmen survivor and human rights activist Shao Jiang. Meanwhile, China's human rights record was raised on an unprecedented scale during the visit, from extensive media coverage to statements from leading politicians - culminating in President Xi himself admitting that the Chinese government has 'work to do' when it comes to human rights.
It certainly does. Many of the lawyers and activist remain in detention without reason. While China's dodgy human rights record has been at least acknowledged, now its time for authorities there to act on the sentiments and release the lawyers.
We are continuing to work on their cases from our China office, and will follow developments closely.