Burundi: Suspected mass graves revealed in new satellite images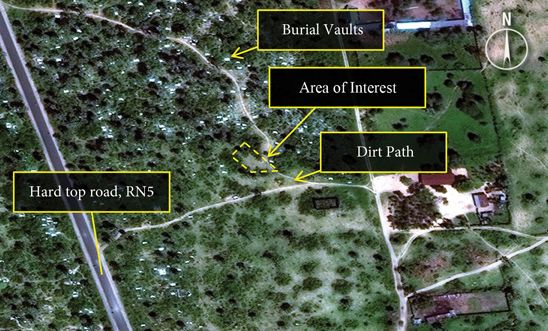 Satellite image showing likely mass grave in Burunid's Buringa region. White demarks discturbed soil. © DigitalGlobe for Amnesty International.
'I don't know where he is or if he's been buried.'
This is what the mother of a 15-year-old boy told us. Her son had been shot in the head by police in Burundi as he ran to take refuge in an outhouse in the Musaga neighbourhood.
She knows that a pickup truck from the mayor's office collected her son's body.  But the men that took him refused to tell her where her son's body was being taken.
Our latest research suggests that her son was one of dozens of people killed by Burundian police on 11 December 2015 who were later buried in mass graves. Many bodies were removed by the security services before they could be identified.
Satellite evidence supports witness testimonies of mass burial
New satelite images and video footage show five possible mass graves in the Buringa area, on the outskirts of Burundi's capital, Bujumbura. The evidence supports testimonies from witnesses, who told our researchers that the graves were dug on the afternoon of 11 December, in the immediate aftermath of the bloodiest day of Burundi's crisis.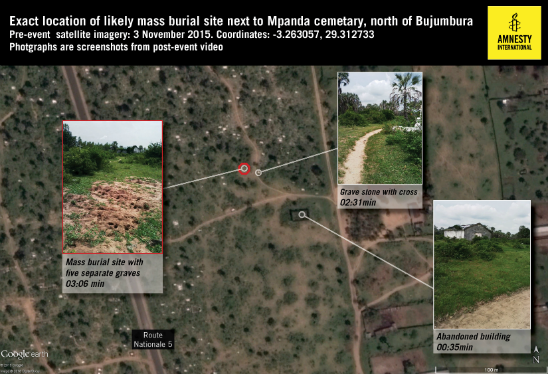 New evidence we examined supports witness accounts of the horrific attacks that took place on 11 December.  Before and after pictures clearly show five possible mass graves in the Buringa area, on the outskirts of Bujumbura.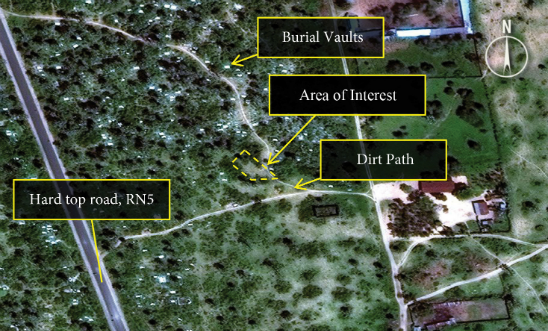 This imagery, dating from late December and early January, shows disturbed earth. Witnesses told us that the graves were dug on the afternoon of 11 December, in the immediate aftermath of what has so far been the bloodiest day of Burundi's escalating crisis.
A deliberate cover-up by authorities?
'These images suggest a deliberate effort by the authorities to cover up the extent of the killings by their security forces and to prevent the full truth from coming out'
Muthoni Wanyeki, Amnesty Regional Director for East Africa, the Horn and the Great Lakes
Our researchers were in Bujumbura when killings happened in December 2015. They visited affected neighbourhoods, including Nyakabiga, the next morning. Residents described how the bodies of at least 21 men were left in the streets, homes and drainage ditches. Our researchers found large pools of blood where some of the victims had been killed but the bodies had been removed.
In addition to the Buringa site, we received reports of suspected mass graves of people killed on 11 December in several other locations, including Mpanda and Kanyosha cemeteries.
Locals tell us that 25 bodies were buried in five graves at the Mpanda site, and 28 in four graves at the Kanyosha site. It is not known how many bodies might be found at other sites.
Burundi crisis
The current outbreak of violence began in April 2015 after it was  announced that President Pierre Nkurunziza would run for a third term. Widespread demonstrations errupted and in May 2015 a coup failed.
Elections were held in July , the opposition party refused to participate and Nkuruzizia won.  
By December the situation had further deteoriated and on 11 December three military camps and an officers' school in Bujumbura came under fire by security forces. Government figures state the number of people killed was around 90.
This week African leaders are meeting at the African Union summit in Addis Ababa to discuss regional issues and the problems in Burundi are at the top of the summit's agenda.