Burkina Faso, where women and girls are second-class citizens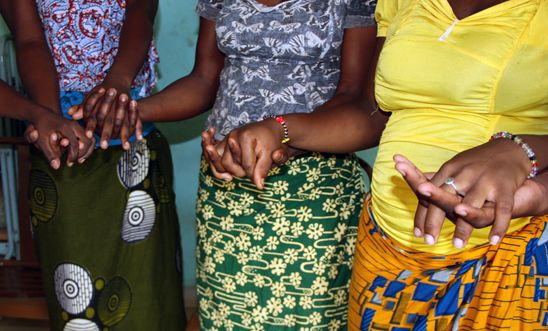 Young women who fled forced marriage or early and unwanted pregnancies in a women's shelter, Ouagadougou, July 2014 © Amnesty International
Héléne didn't know contraception existed until she already had three children – aged 22. Women and girls in Burkina Faso are being discriminated against by a system that won't let them make decisions about their education, healthcare and contraception.
We're campaigning for the authorities in Burkina Faso to make sure women and girls' rights are protected in the law and in practice, so that women are able to make choices about their own bodies and ultimately have more of a say in their own lives.
Things are starting to change
While life remains difficult and unequal for women in Burkina Faso, there are signs that change is on the way.
In February, the government announced its commitment to eradicating early and forced marriage in the country – an abusive practice where girls are married either before they're 16, or made to marry against their will.
Burkina Faso's Ministry of Justice, Human Rights and Civic Promotion put out a statement saying that it plans to raise the legal age of marriage for girls to 18. The ministry also plans to ensure that forced marriage is clearly outlawed in Burkina Faso's criminal code.
Huge thanks to the 19,454 people in the UK who signed our petition calling on the country's president, Roch Marc Christian Kaboré, to make sure the rights of women and girls are protected by law, and work to do away with current injustices.
But it's still bad news for girls
Denied contraception
When Héléne heard about contraception, she wanted to use it, but her husband wouldn't let her.
'My husband didn't agree, so I couldn't. Anyway, I didn't have the money. How was I going to get the money?'
Héléne is now a 25-year-old mother of four children
She managed to access some through a healthcare clinic, but her husband wouldn't give her the money to renew her contraceptive injection, so she fell pregnant again.
'It's difficult to raise the subject [of contraception] with him. He is automatically against it. When the husband speaks, we have to put up with everything… Without money, there was nothing I could do and the last child, which I did not want, was born.'
Héléne
Héléne's situation is all-too-common in Burkina Faso, where women are too often unable to make decisions about their body and sexual and reproductive lives. This includes access to information and contraception, the right to decide who to marry and how many children they will have - or whether they have them at all.
Forced to marry as a girl
'When I was 12, my father married me off to a 25-yearold man. I refused to go to his house. My parents beat me, but I refused to leave the family home.'
Rose, aged 46. Her resistance won out and she is now married to the man she loves.
Despite being illegal, forced marriage remains commonplace. Most women are married by the age of 19.
Education cut short
Only 64% of girls in Burkina Faso are able to go to school, and many have to leave to get married or take on domestic work.
Even the most basic information of sexual and reproductive health is inaccessible to most girls. Mariama, now a 25-year-old mother of three children, did not know that she could get pregnant from having sex, for example.
Denying healthcare is deadly
The country has one of the highest rates of maternal mortality – when a woman dies as a result of her pregnancy – in the world. One in every 22 women will die simply from getting pregnant. With education and healthcare programmes in place, these deaths could be dramatically reduced.
'Sometimes I have to get into debt just to renew my contraception.'
Sofia, aged 40, sells doughnuts to make a living
Burkina Faso has one of the lowest rates of contraceptive use, with just 17% of women and girls taking measures to make decisions about their own bodies and lives. Contraceptives may not be something a girl knows about, and if they are available they can be prohibitively expensive – emergency contraception can cost one-fifth of a woman's monthly income if she earns the minimum wage. A woman who has been raped must still pay for her own emergency medical care – not an option for many women in this situation.
What we're calling for
We're asking the President of Burkina Faso to:
Improve access to sexual and reproductive health services and information for women and girls
Make contraception free
Ensure that women and girls have the right to decide whether to have children, and how many.