Britain's shame - 70 years after Windrush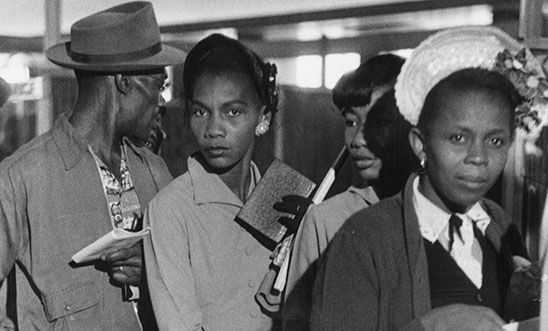 Immigrants to Britain from the West Indies queuing up on arrival at Southampton holding documents 27 May 1956 © Getty Images
Our government has finally acknowledged the appalling injustice done to Commonwealth citizens and their children who arrived in the UK decades ago. To ensure we don't inflict such humiliation and injury in future, we must understand the causes of the present scandal. Steve Valdez-Symonds, our programme director for refugee and migrant rights, explains.
In recent years, people long entitled to reside permanently in the UK – some of them British citizens – have had their lives turned upside down. Not only has their right to be in the country been questioned; they have been denied vital healthcare, lost their jobs and been made homeless. Some have been detained. It is not know how many people have wrongly been removed from the UK, or been refused re-entry after travelling overseas.
What has been done to the 'Windrush generation' has many causes.
As British subjects, the people who disembarked from the Empire Windrush in Tilbury on 21 June 1948 were freely entitled to come, stay and go from the UK as they wished. They shared the same nationality as the resident population as well as the many other British subjects of the Empire and former colonies. Subsequently, however, successive UK governments set about restricting the immigration rights of some British subjects but not others. They did so intending to differentiate on the basis of race.
Successive immigration acts of 1962, 1968 and 1971 were passed to restrict the rights of black and Asian people from countries such as Jamaica and India to live in the UK. The last of these, the Immigration Act 1971, preserved certain immigration rights of Commonwealth citizens who had already settled, but firmly established a distinction among British subjects concerning rights to enter and stay in the UK.
A decade later, the British Nationality Act 1981 established what is now British citizenship. The result was that many Commonwealth citizens ceased to be British subjects, but did not become British citizens.
The immediate cause of today's Windrush scandal relates to more recent immigration policy.
From November 2008 the Home Office introduced biometric residence cards, for which there is a substantial fee. But it chose not to inform people already settled in the UK, and did nothing to help them acquire the new documentation.
Over many years – but especially after the Immigration Acts of 2014 and 2016 – government has imposed compulsory immigration checks for access to various rights and services. This includes healthcare, social assistance, employment, banking, and renting accommodation.
After decades of living in the UK without having their status questioned, people suddenly found employers, landlords and hospitals were demanding documents that they did not have.
Home Office guidance for employers and others to make immigration checks sets out which documents are 'acceptable'. Many people have old stamps and stickers in their passports, and status letters, but these are no longer on the Home Office list.
This has led to people losing their jobs, becoming homeless and being refused social assistance. The Home Office has generally been unhelpful. It has failed or refused to confirm people's status from its records, many of which it has lost or destroyed. Yet it has demanded people document decades of their lives to prove the citizenship or immigration status they have long possessed.
To make matters worse, many people – including many legal advisers – have limited awareness of the complicated history of UK nationality and immigration laws. Legal aid cuts, particularly after the Legal Aid, Sentencing and Punishment of Offenders Act 2012, have left many people unable to afford effective legal advice and assistance.
On 16 April 2018, in response to an urgent question from David Lammy MP, the Home Secretary told the House of Commons that the Home Office had too long been concerned with strategy and policy, and forgotten the people its policies affect.
This is true. We at Amnesty recently said as much in submissions to the parliamentary Home Affairs Select Committee and Joint Committee on Human Rights. We highlighted how establishing possession, entitlement or eligibility for citizenship or immigration status has become an acute human rights problem in the UK.
The history of the Windrush generation, of their arrival in the UK and the racism they subsequently endured, makes what has been done to them particularly disgraceful. But we must also recognise that others are affected, including people long settled in the UK who lack what is now deemed the 'correct' documentation. They too are fully entitled to be here and face the same risks if ever asked to show their documents.
Amnesty has, for example, spoken to several Chilean refugees who arrived in the 1970s. While they and their children are lawfully settled in the UK, their documents are not on the Home Office list. Some of them have lost jobs because of this.
There are also thousands of children born in the UK without British citizenship but entitled to register as British. Many are unaware of their right to citizenship; and many others cannot afford the £1,012 fee charged for their citizenship to be registered.
There are even people who were born British but cannot prove it – whether because they have lost contact with their parents or their parents cannot establish their own status. Indeed, some of the Commonwealth citizens' children and grandchildren may be in this situation.
The experience of Commonwealth citizens shows the enormous damage that ensues when policies are made without considering the consequences for the people directly affected. Our immigration system needs fundamental reform to address its long-standing systemic faults.
Amnesty Magazine
This article originally appeared in Issue 197 of Amnesty Magazine. To receive your free copy every quarter featuring all the latest news and opinion about human rights become a member today for only £3 a month. Join Amnesty