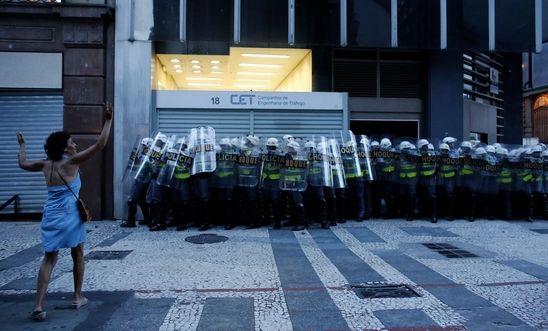 A demonstrator in front of riot police during a protest against the 2014 World Cup in Sao Paulo © REUTERS/Nacho Doce
Basic freedoms are under threat in Brazil. Mass protests have led to ill-equipped police using unnecessary force on civilians. We're calling on Brazil not to turn the beautiful game ugly, and respect human rights for all.
In recent years, Brazil has seen mass protests of a scale never before seen in the country.
In May 2013, Brazilians took to the streets, initially to rally against rises in transport fares. The focus of the demonstrations quickly widened to government corruption, poor public services, and forced evictions in preparation for the World Cup.
It soon became clear that police and security forces were not equipped to deal with demonstrations of this scale. In many cases they used excessive force to control protests – including tear gas and rubber bullets – causing injuries and even death.
A municipal street cleaner in Belem, Pará state, died on 21 June 2013 after police allegedly sprayed tear gas inside a place where she and other people were sheltering during a protest the day before.
Crackdown at the World Cup
The 2014 World Cup came to a dramatic conclusion when police arrested around 20 protestors before the final between Argentina and Germany.
'The arrests on Saturday and the way the police behaved on Sunday, violently repressing a small protest near Maracana stadium, were a clear attempt to intimidate protesters. The violence meted out by the security forces over the course of the World Cup was excessive, unnecessary and a direct threat to the right to peaceful protest. The heavy-handed crackdown included the use of non-lethal weapons, such as stun grenades, pepper spray and tear gas.'
Atila Roque, Director of Amnesty International Brazil
We have collected evidence of the excessive use of force in São Paulo, Rio de Janeiro, Recife and Fortaleza during the tournament. Acts of intimidation against protesters were also documented in Curitiba and Brasilia.
Protesting is not a crime, it's a human right
Hundreds of protesters were arrested during the 2013 protests. Some were immediately released and others were detained and charged – many of them for offenses of contempt, resistance, conspiracy to gather or assemble, and for causing damage to property.
Instead of crushing potential protests, Brazilian authorities should instead be looking for ways to responsibly police demonstrations and allow citizens to peacefully protest without fear of arrest.
Justice must be served
In São Paulo alone, Police Internal Affairs opened 21 internal processes to investigate allegations of violations by the police during protests between June 2013 and January 2014. It is reported that, so far, none of these investigations have been concluded and no police officers have been subjected to disciplinary or criminal proceedings or received any penalties.
We are calling for immediate, independent investigations into the many abuses committed by Brazilian police against protestors.