Campaign lowdown: Sport and human rights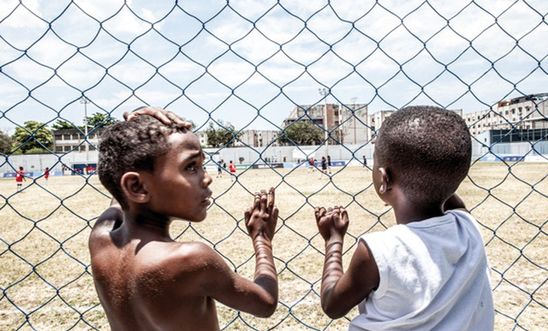 Still from Looking for Rio © Canto Bros. Productions/13 Productions
Human rights have a vital role to play in sport that is often overlooked. From fighting racism, sexism and homophobia to standing up for the rights of the workers building stadiums, sport and human rights are intrinsically linked.
Major sporting events like the Olympics and the World Cup also provide an opportunity to raise awareness of human rights abuses either in the host country, in the countries taking part or the event's sponsors.
'It's a myth that football and human rights shouldn't mix. You only need to look at the issues around racism in recent years to realise what an important role human rights should play in football.'
Sol Campbell
Protest has long been a feature of major sporting events such as Tommie Smith and John Carlos' salute during their medal ceremony at the 1968 Summer Olympics and the sporting boycott of South Africa during the Aparthe era
We have a long history of campaigning around major sporting events.
Brazil World Cup
Ahead of the 2014 World Cup in Brazil, we campaigned against the crackdown on basic freedoms in the country, the increase in police brutality and a new law that threatens to make peaceful protests a crime. Find out more
In this exclusive interview for us, Eric Cantona talks about the human rights abuses and street protests in Brazil he discovered making his latest film Looking for Rio.
##Sochi Winter Olympics
We used the 2014 Sochi Winter Olympics to highlight human rights abuses in Russia, the continuing crackdown on free speech and the cases of Elena Klimova and Yevgeny Vitishko
Qatar World Cup
In October 2013 we released a report on the dire conditions of migrant workers in Qatar who are building the infrastructure for the 2022 World Cup. Dark side of migration (PDF)
London Olympics
Ahead of the 2012 London Olympics we campaigned against Dow Chemical being made an official sponsor of the event because of their responsibility for the Bhopal disaster in India in 1984.
Over the years have campaigned against human rights abuses at the 2008 Olympic in Bejing, evictions in South Africa for the 2010 World Cup, racism and police violence in Poland and Ukraine during the 2012 European Championships and clampdowns on protests around the Formula One Grand Prix in Bahrain.
Sidelines: Football film festival
Football, like all sport, should be a force for good but too often we hear of human rights being overlooked within and around the game. On the eve of the World Cup in Brazil, we present a weekend of films, thought-provoking Q&As and lively panel discussions all with a football and human rights theme. Find out more