The UK must recognise Eritreans as the refugees that they are
We have all heard about the terrible situation in Syria, Afghanistan and Iraq causing people to risk their lives and make the treacherous journey across the Mediterranean. However, what I have sadly come to realise is that not so many of us have heard much about the Eritreans also making this crossing.
Since the beginning of last year, Eritreans have made up the fourth-largest nationality of people making the crossing into Europe. The country itself is often referred to as 'the North Korea of Africa'. Not a flattering comparison.
The country has severe restrictions on free speech, with thousands of prisoners of conscience and political prisoners being held in arbitrary detention and often being subjected to torture and other cruel, inhuman and degrading treatments. One of the main reasons Eritreans are fleeing is compulsory national service. The Eritrean government claim that National Service is for an 18-month period – however, it is in fact indefinite, resulting in a system amounting to forced labour, with families torn apart. And if you don't take part? Get ready for arbitrary detention and torture.
For me, even more shocking than the dreadful situation in Eritrea, is the UK government's decision-making on Eritreans seeking asylum in the UK. Between 2014 and 2015, the largest number of asylum applications in the UK came from Eritrea (3,658), but changes in the Home Office's criteria meant that the UK government refused many of them asylum. And yet up until 2014, the vast majority of Eritreans seeking asylum in the UK were successful in doing so.
So what changed? Did the situation in Eritrea drastically improve? Had torture and arbitrary detention become a thing of history. Nope.
In November 2014, the Danish Immigration Service published a report by a fact-finding mission Danish authorities had sent to Eritrea. The report claimed that there were significant improvements in human rights conditions, and suggested that asylum seekers registering claims relating to illegal exit and evading conscription should not be recognised as refugees. Instead, they should be returned to Eritrea.
As a result, the UK Home Office updated its country guidance on Eritrea – basing it heavily on the Danish report. It very quickly had a real impact: in the first three months of last year, the refusal rate for Eritrean asylum-seekers jumped from 14% to 66%. The Danish report has been criticised by many NGOs, including Amnesty, the UNHCR and Human Rights Watch. Even the Danish Immigration Service themselves don't rely on it in their decision making.
In contrast to the Danish report, a UN report in June last year reported that Eritrean authorities were committing gross human rights violations, some amounting to crimes against humanity.
Three months later, the UK Home Office once again changed its country guidance on Eritrea, but it is still heavily reliant on the discredited Danish report – rather than the more recent and compelling UN report. It is still likely to result in a large number of Eritreans being refused their right to asylum.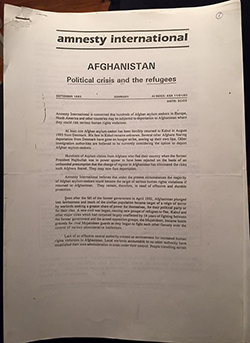 Only yesterday I came across my family's asylum application to the UK. In it I found an Amnesty International report on the situation in Afghanistan, which was used as evidence to support my family's claim. This showed me how important it is to have reliable evidence like the Amnesty International report, as opposed to this discredited Danish report, given that it can be incredibly dangerous for the individuals involved.
Thankfully, various UK Parliamentarians are highlighting the situation in Eritrea and challenging the Home Office's decision-making process on Eritrean claimants. Last October I attended a parliamentary event where I heard first-hand from Eritreans who had fled their home. As someone who works at Amnesty and also fled to the UK as a refugee from a war-torn country, I know all too well the shocking stories and so one would assume the testimonies would not come as a complete shock to me – but they did.
We heard from a doctor who worked in a hospital for prisoners. As he was speaking about the dreadful things he had seen, a woman in the audience could not stop crying – we later found out that she had just discovered that this doctor treated her parents, parents she had not seen or heard from in years. Now imagine the first time you hear a story about your parents after years of not knowing how they were, and the story is one of the horrific conditions and treatment of prisoners.
Last week, a parliamentary debate saw five MPs mention Eritrean refugees. The SNP's Patrick Grady asked the Minister specifically about the Home Office's treatment of refugees from Eritrea. Hugo Swire, the Minister responding, acknowledged all the countries mentioned in the debate – while barely touching on Eritrea.
However, it is worth noting that Foreign Office Ministers James Duddridge and David Lidington have both highlighted their department's deep concern about the situation in Eritrea. They explained that Eritrea is a priority country in the department's human rights report because of 'allegations of widespread arbitrary detention, shortcomings in the rule of law, and a lack of respect for fundamental human freedoms'.
So why is the Home Office rejecting asylum claims of individuals from a country the Foreign Office itself is so concerned about?
Why is the Home Office clogging up the asylum appeals system with Eritrean cases going to tribunal and often succeeding there?
And finally, the Home Office haven't themselves returned Eritreans back to the country, so why are they even rejecting asylum claims which would inevitably result in destitute Eritreans left alone in a foreign country?
One of the most welcome moves is the formation of the All Party Parliamentary Group on Eritrea, set up last week with the help of Baroness Kinnock who has championed human rights in Eritrea for a long time. This, along with continuous pressure from other Parliamentarians, is a good start.
Pressure from MPs, Peers, NGOs and others is what is needed to ensure that the Home Office revise their country guidance on Eritrea and ensure that any decision made on the situation in Eritrea is not based on the discredited Danish report.
About Amnesty UK Blogs
Our blogs are written by Amnesty International staff, volunteers and other interested individuals, to encourage debate around human rights issues. They do not necessarily represent the views of Amnesty International.
View latest posts