How the government profiteers from children needing to register as British citizens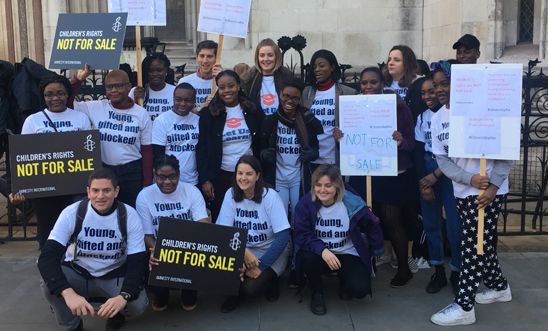 Demo outside the High Court, 23 November 2017. © Rachel Reilly
How can someone born in this country, having lived here all her life, find herself threatened with removal by the government to somewhere she doesn't know and has never been?
How can this happen when she's entitled, by the law, to citizenship of that country?
How can this happen in the UK?
On Thursday, the High Court will be considering precisely such a case. It is a test case to determine how the the law will affect many more people who find themselves in the same or similar situation.
The claimant – the person bringing the case – is eleven years old. She is called VF in the proceedings. Her name is protected by order of the court because of her age.
VF was born in the UK. She has never left the country. However, like tens of thousands of children born in the UK, she was not born British. This was because neither of her parents were British or entitled to reside permanently in the UK when she was born?
VF brought this court case because she was entitled to British citizenship. All she needed to do was register that entitlement. However, because the Home Office impose a fee of nearly £1,000 to register a child's citizenship, she was unable to do so. She could not afford the fee.
Most children born in the UK are British at birth. Those, who are not, generally grow up unaware that they're not British like their friends. Their lives carry on just like the children they play with, go to school with.
These children look, sound and feel as British as any of their friends. Yet a terrible shock awaits – usually when they approach or reach adulthood. That is often when they discover the things their friends can do, and they cannot.
They may be unable to go to university because home student fees or loans are not available to them. They may be refused a job, a bank account or a place to rent. They may even be refused NHS treatment.
Worse – like VF – the Home Office may tell them they cannot stay in the country. And that if they do'nt leave, they will be removed by force to a country they have never been to. Some may even be detained while the Home Office attempts to do this.
The fee that VF was unable to pay is made up of two parts.
Firstly, there is an amount said to reflect the cost to the Home Office of registering a child as British. In April, this amount was raised from £272 to £386.
Secondly, the Home Office charges an amount over and above the cost of registration. This is now £587. The total fee, therefore, is £973.
This second part of the fee is like a tax.
Essentially, the Home Office is using the fact that the child must register her citizenship as an opportunity to raise funds.
However, the Home Office claims this tax represents the 'benefit' to the child of citizenship.
This is an outrageous attempt at justification. Children like VF are entitled to British citizenship. They are no less entitled to it than are children born in the UK to British parents.
Although those children acquire British citizenship at birth and children like VF must register their citizenship, the British Nationality Act 1981 gives both sets of children the right to citizenship. It is their entitlement; and the benefit of it was given by Parliament in passing the 1981 Act.
Neither citizenship nor the benefit of it belongs to the Home Office. It is not theirs to sell or tax.
Yet the Home Office has been profiteering off children in this way for around a decade. In doing so, it has denied many children, who simply cannot afford the fee, the citizenship that is theirs by right.
On Thursday, the High Court will be asked to declare this abuse of children's rights to be unlawful. It is greatly hoped the court does so.
If it does not, Parliament must step in to give back to thousands of children the British citizenship it sought to give them around 35 years ago, but which the Home Office is denying them by a scandalously high fee.
You can read more about children's citizenship rights on the website of the Project for the Registration of Children as British Citizens (PRCBC).
To support PRCBC and Amnesty's Children's Human Rights Network in their campaign against the fee, please sign the petition or write to your MP.
About Amnesty UK Blogs
Our blogs are written by Amnesty International staff, volunteers and other interested individuals, to encourage debate around human rights issues. They do not necessarily represent the views of Amnesty International.
View latest posts