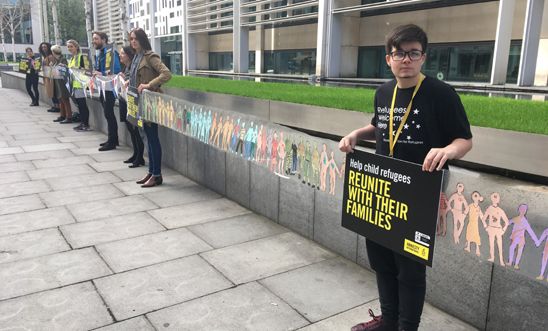 Calling for family reunion rights for child refugees outside the Home Office © Imran Uppal
By Steve Valdez-Symonds, Programme Director - Refugee and Migrant Rights
Today Amnesty International and Student Action for Refugees (STAR) have linked the Home Office and the Department for Education in a giant paper chain of united families – and handed in more than 30,000 strong petition.
We have done this to draw attention to a particularly damaging example of how children's welfare is sacrificed by the Government's asylum policy – its refusal to allow child refugees the right to family reunion.
Every year, a few hundred unaccompanied children are among the thousands of people recognised by the Home Office as refugees and entitled to asylum in this country.
Like their adult counterparts, they had to get here first because the UK – like most other countries – offers no opportunity for a refugee to apply for asylum unless and until she or he reaches the country.
Like so many of the adults, many of these children will have endured dangerous journeys and even shocking exploitation in order to escape from bombs, bullets and torture and reach safety here.
Like the adults, they will have passed through the UK asylum system – having to retell often harrowing experiences to officials they don't know and who may be highly sceptical about them.
And like the adults, they have been found to be refugees – entitled to asylum here in the UK.
Yet here the similarity dramatically ends.
When the entitlement to asylum in the UK of someone at risk of persecution is recognised by the Home Office, they are also granted the opportunity to be reunited here with their closest family.
Family reunion is a vital aspect of giving asylum. It helps people to overcome the trauma of their past experiences and forced displacement. It removes one of the most painful aspects of this, their separation from their nearest and dearest. And it allows them to enjoy the family support that so many of us take for granted.
But if they are a child, they aren't given this opportunity.
Children given asylum in the UK – because to return home would put their life and liberty at risk – are the only refugees the UK denies the right to family reunion.
The Home Office and Department for Education are jointly reviewing their policy and practice on the welfare of unaccompanied children in the UK. We are demanding they take this opportunity to reverse a policy that forcibly keeps children separated from their parents and siblings.
Tragically, not all child refugees could be reunited with their family even if the policy was changed. Some will have family who cannot be found; others family who are dead. But for those who can be reunited, their continued forcible separation is cruel.
The Government has frequently stressed the importance of families and 'putting children first.' Last year, in a paper of that title the Minister of State for Children and Families signed a foreword along with the then Secretary of State for Education stating:
"…as a fair and decent people, we believe that every child, no matter what their circumstances, should be afforded the best possible start in life. The kind of start that not only allows them to become successful adults, but also gives them the happy childhood that we want for all our children. We should be judged by how we treat the most vulnerable in our society, and that means putting our most vulnerable children first."
Refugee children are among those 'most vulnerable'. Our Government should be doing all it can to give them the best chance for their personal development and happiness. Not allowing them the opportunity to be reunited with their closest family does precisely the opposite.
The strike of a pen is all it would take to give these children the best chance at overcoming the trauma of escaping conflict and rebuilding their lives.
Please tweet Home Secretary, Amber Rudd
.@AmberRudd Don't force vulnerable child refugees to choose between family or safety #ReuniteRefugeeFamilies
About Amnesty UK Blogs
Our blogs are written by Amnesty International staff, volunteers and other interested individuals, to encourage debate around human rights issues. They do not necessarily represent the views of Amnesty International.
View latest posts