Squabbling over children in Calais sends an appalling message to the rest of the world
Over recent days, the relationship between the French and UK governments has been strained by renewed disagreement over who should take responsibility for children at Calais. 
The two governments have once more effectively abandoned these children in conditions which obviously put their safety and welfare at risk.
This in contrast to the arrival in the UK of significant numbers of children over recent weeks, including many being reunited with family here – an outcome required by the Dublin III Regulations to which both countries are legally bound. After what had been a welcome advance by the Home Office and many local authorities, the latest spat and its impact on children's welfare is deplorable.
"As officials declare "mission accomplished", children in #Calais have no idea where to go as fires decimates camp" https://t.co/Of5D0b0oMH pic.twitter.com/hXWQylwBVc

— Stefan Simanowitz (@StefSimanowitz) October 26, 2016
Before the recent demolitions, we wrote to the two governments calling on them to respect the rights of all refugees and other migrants living at Calais – particularly their rights to access asylum procedures and family reunion. 
While much political discourse here in the UK focuses on France's immediate duties to people on its territory, the reality is that both countries have responsibility and their unwillingness to share this continues to be hugely damaging.
Those shared responsibilities do not end with the legal obligations to enable children and some adults seeking asylum to be reunited with family in the UK. The 1948 Universal Declaration of Human Rights and the 1951 UN Refugee Convention – to which both are signatories – require members of the international community to share responsibility for providing a place of safety to people who have fled war and persecution.
For some years, France has been doing significantly more than the UK. Twice as many people claim asylum in France than in the UK, and it is host to twice the number of refugees.
But the reality is that refugee populations in neither country bear any reasonable comparison with those in far poorer, less stable countries further afield – countries like Pakistan, Ethiopia and Kenya, not to mention Syria's neighbours.
And as the governments of France and the UK squabble over responsibility, the capacity and will of these countries to continue to host refugees is on the wane. Pakistan is pressuring hundreds of thousands of Afghan refugees back to a country where conflict is already spreading.
Kenya's intention to close its Dadaab camp presents a similar threat to around 300,000 Somali refugees.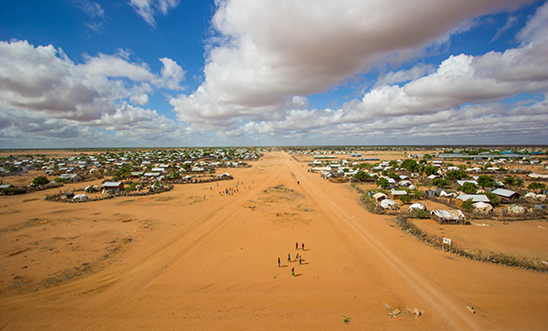 Dadaab in Kenya, the largest refugee camp in the world. Credit: Film Aid
This latest spat between two of the richest nations in the world sends an appalling signal to other countries. Shirking responsibility for protecting refugees can only encourage others to shirk too.
This is neither compassionate nor rational. It doesn't remove the root causes of refugees having to flee or their vulnerability to traffickers and other abusers when doing so. In fact, it does precisely the opposite.
As safe spaces for refugees around the world continue to contract, the pressure for more to travel further grows. Criminal gangs and individual abusers exploit this.
Those suffering most from what is a collective failure of governments are the very people whom international law requires should be protected – refugees. More than half of them globally are children.
And in ever increasing number they are not finding the safety that is their right. Certainly not those children whom the French and UK governments are still failing between them to provide secure and safe shelter, with access to asylum procedures or family reunion. And not the hundreds of thousands out of school in Turkey, many of whom are forced into child labour. Not the girls forced into child marriage in Lebanon, or raped in Libya. Not the many children who have gone missing in Europe or been subjected to abuse in Greece. 
Despite the protestations of governments and others, these children – as indeed so many adult refugees – are not safe elsewhere. And a critical reason for this is the ongoing refusal of our government and that of our neighbour to share responsibility between them. That refusal constitutes an immediate catastrophe for each of those children still at risk in France.
It's potentially catastrophic more broadly too – because if two rich countries won't take responsibility for a tiny number of people seeking asylum at their shared border others are even less likely to do so elsewhere.
Until richer countries like the UK and France take their share of responsibility, an escalating global crisis seems set to keep getting worse.
About Amnesty UK Blogs
Our blogs are written by Amnesty International staff, volunteers and other interested individuals, to encourage debate around human rights issues. They do not necessarily represent the views of Amnesty International.
View latest posts