Libya: new testimonies reveal horrors inflicted on refugees and migrants by traffickers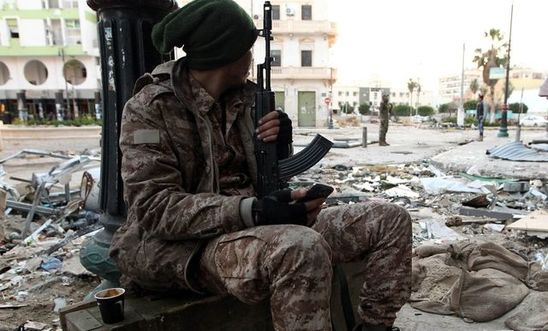 A soldier in the turbulent city of Bengahzi © Abdullah Doma/AFP/Getty Images
Dozens tell Amnesty stories of death, rape and starvation at hands of their captors
Smugglers threw disabled man from a pick-up truck and left him to die in the desert
'We didn't see the sun for nine months' - 21-year-old Christian woman from Eritrea, held captive underground in Tripoli 
New accounts of killings, sexual violence, torture and religious persecution gathered by Amnesty International reveal the horrors being inflicted on refugees and migrants by people traffickers and smugglers in Libya, the organisation said today.
Amnesty recently spoke to over 90 refugees and migrants at reception centres in Puglia and Sicily in Italy who'd made the journey across the Mediterranean from Libya to southern Italy in the past few months, and who were abused by people smugglers, traffickers, organised criminal gangs and armed groups at every stage of their journey - from their arrival in Libya until they reached the coast. Others had lived in Libya for years but wanted to escape because of harassment or abuse by local gangs, the police or armed groups. 
The majority reported being victims of human trafficking, saying they were held by traffickers as soon as they entered Libya or were sold on to criminal gangs. Several described being raped, tortured or exploited by those who held them captive, and some witnessed people being shot dead. Others saw people left to die as a result of illness or ill-treatment.
Paolos, a 24-year-old Eritrean man who travelled through Sudan and Chad and arrived in Libya in April, described how smugglers abandoned a disabled man in the desert as they crossed the Libyan border heading to the town of Sabha. "We saw them throw one man [out of the pick-up truck] into the desert. He was still alive. He was a disabled man," he said. 
Ahmed, an 18-year-old Somalian, described his journey through the desert from Sudan to Libya in November: "When you [arrive in] Libya, that's when the struggle starts. That's when they start to beat you." He said smugglers refused to give them water as punishment and even shot at them when they requested water for several desperately thirsty Syrian men travelling with them. "The first Syrian died, he was young, maybe 21 years old. After this they gave us water, but the other Syrian man also died … he was only 19," said Ahmed, adding that the smugglers seized the dead men's belongings and didn't allow them to be buried. 
Amnesty International Middle East and North Africa Deputy Director Magdalena Mughrabi said:
"Their experiences paint a terrifying picture of the conditions many of those who come to Europe are so desperate to escape.

 

"The Libyan authorities must take urgent steps to restore the rule of law and protect the rights of refugees and migrants. 

 

"The EU should focus less on keeping migrants and refugees out and more on finding safe and legal ways for those trapped in Libya to access a place of safety."
Women and girls raped by their traffickers
Most of the 15 women Amnesty spoke to said they had lived in perpetual fear of sexual violence along the journey to the Libyan coast. Many said rape was so commonplace that they took contraceptive pills before travelling. Medical staff at a reception centre for migrants and refugees in Bari in Italy confirmed that other women reported having gone through the same experience. According to the women's testimonies, the women were sexually assaulted either by the smugglers themselves, by traffickers or by members of armed groups, with attacks taking place along the smuggling route and while women were being held in private homes or abandoned warehouses near the coast waiting to board boats to Europe. 
A 22-year-old Eritrean woman told Amnesty that she witnessed other women being sexually abused, including one who was gang-raped because the smuggler wrongly accused her of failing to pay his fee. "Her family couldn't pay the money again. They took her away and she was raped by five Libyan men. They took her out late at night. No one opposed it, everyone was too afraid," she said. 
Ramya, 22, from Eritrea, said she was raped more than once by the traffickers who held her captive in a camp near Ajdabya, in north-eastern Libya after she entered the country in March 2015. "The guards would drink and smoke cannabis and then come in and choose which women they wanted and take them outside. The women tried to refuse but when you have a gun pointed at your head, you don't really have a choice if you want to survive. I was raped twice by three men … I didn't want to lose my life," she said. Antoinette, a 28-year-old woman from Cameroon said of the traffickers who held her captive in April 2016: "They don't care if you're a woman or a child …They used sticks [to beat us] and would shoot in the air. Maybe because I had a child they didn't rape me but they raped pregnant women and single women."
People held hostage for ransoms
Many of those Amnesty spoke to said smugglers held them captive to extort a ransom from their families, keeping them in deplorable and often squalid conditions, depriving them of food and water, and beating and harassing them constantly. Semre, 22, from Eritrea, said he saw four people - including a 14-year-old boy and a 22-year-old woman - die from illness and starvation while he was held captive for ransom. "No one took them to the hospital so we had to bury them ourselves," he said. His father eventually paid the traffickers in exchange for Semre's freedom but instead of releasing him they sold him on to another criminal group.
Others recounted how they were repeatedly beaten by those who held them captive and those who could not pay were forced to work for free to pay off the debt. Abdulla, a 23-year-old Eritrean man, said the traffickers would torture and beat people to force them to pay, particularly while forcing them to speak to their families to pressure them into paying.
Saleh, 20, from Eritrea, entered Libya in October 2015 and was immediately taken to a storage hangar in Bani Walid run by traffickers. During the ten days he was held there, he witnessed how one man who couldn't pay died after being electrocuted in water. "They said that if anyone else couldn't pay, their fate would be the same," he said. Saleh escaped but eventually ended up at another camp run by traffickers in Sabratah, close to the sea. He said: "We didn't know what was happening …They said they would keep us there until our family was able to pay …The people in control forced us to work for free, in houses, to clean, any jobs. They didn't give us proper food. Even the water they gave us was salty. There were no proper bathrooms. Many of us got skin problems. The men would smoke hashish and would beat you with their guns and anything they could find. They used metal, rocks. They had no heart."
ISIS persecution of Christians
The rise of ISIS and other powerful armed groups in Libya has put foreign nationals - particularly Christians - at an increased risk of abuse and potential war crimes. Amnesty spoke to people who said they were abducted by ISIS for several months. Amal, a 21-year-old Eritrean woman, described how a group of 71 people she was travelling with was abducted by an armed group they believed to be ISIS near Benghazi while they were on their way to Tripoli in July 2015. "They separated us into Christians and Muslims and then they separated the men and women. They took [the Christians] to Tripoli and kept us underground - we didn't see the sun for nine months. We were 11 women from Eritrea. Sometimes we didn't eat for three days. Other times they would give us one meal a day, half a piece of bread." She also described how they were pressured into converting to Islam and beaten with hoses or sticks when they refused. "Sometimes they would frighten us with their guns, or threaten to slaughter us with their knives," she said. When the women finally succumbed and agreed to convert, she said they suffered sexual violence. The men considered them their "wives" and treated them as sexual slaves. Amal said she was raped by different men before being assigned to one man who also raped her.
In another case, Adam, 28, a man from Ethiopia living in Benghazi with his wife, was abducted by ISIS because he's a Christian. "They kept me in a prison for one and half months. Then one of them felt sorry for me after I told him I have a family and he helped me memorise the Quran so they would let me go … they killed many people." He was eventually able to escape after seven months in captivity.
As well as the persistent threat from armed groups, foreign nationals in Libya also face widespread racism and xenophobia as public sentiment remains hostile. Many refugees and migrants reported being physically assaulted, threatened with knives and guns, robbed of their possessions at gunpoint, or beaten on the streets by criminal gangs. 
Hundreds of thousands of refugees and migrants in Libya
Hundreds of thousands of refugees and migrants - mostly from Sub-Saharan Africa - travel to Libya fleeing war, persecution or extreme poverty, often in the hope of settling in Europe. The International Organisation for Migration estimates there are over 264,000 migrants and refugees currently in Libya, and the UNHCR say there are around 37,500 registered refugees and asylum-seekers, half of them Syrians. 
According to the IOM, most foreign nationals residing in Libya originate from Niger, Egypt, Chad, Ghana and Sudan. The majority of those travelling through the country and then crossing to Italy by boat are from Eritrea, Nigeria, Gambia, Somalia and Ivory Coast. The main transit point for people from West Africa entering Libya is the south-western city of Sabha. Those entering via Sudan from Somalia, Eritrea and Ethiopia come through Kufra, and then travel onto Ajdabiya in the north-eastern part of the country. Most boats heading to Europe depart from north-western Libya. Before departure, foreign nationals are held in houses and farms until more people are gathered for the journey. 
Some of the abuses against refugees and migrants in Libya amount to human trafficking. Trafficking people constitutes a human rights abuse as well as being a crime in most national criminal law systems. It includes the transfer of persons through threat and the use of force or coercion. By contrast, smuggling does not involve coercion; it is consensual. While smuggling can involve the commission of criminal offences, it is not in itself a human rights abuse.