Conservative conference 2018: too many leaders not enough rights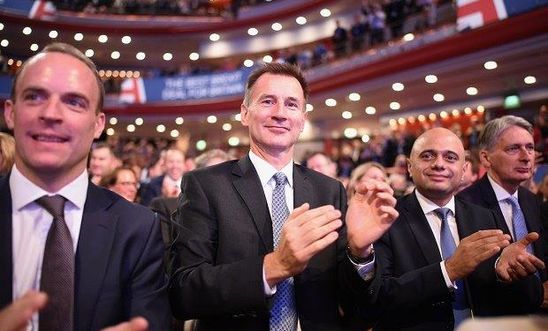 Cabinet Ministers (L-R) Dominic Raab, Jeremy Hunt, Sajid Javid and Philip Hammond clap ahead of British Prime Minister Theresa May's speech on the final day of the Conservative Party Conference at The International Convention Centre on October 3, 2018. © Getty
There can only be one Prime Minister at a time, but how many hopeful party leaders can there be standing in the wings? If this year's Conservative Party Conference is anything to go by, the answer is…lots!
If the drama of political grandstanding and jostling for prominence is your thing, you won't have been disappointed. Coverage has been dominated by Brexit, of course, but along with it – maybe because of it – there hasn't been a day go past without a bid-for-leadership speech being made, much to the gritted teeth smiles of the boss.
We had Foreign Secretary Jeremy Hunt's "leadership zeal"; Home Secretary Sajid Javid's post-Brexit immigration announcement; Brexit Secretary's Dominic Raab's "grown up" speech; and, of course, Boris Johnson's "crowd pleasing pitch" to a packed fringe.
And that's to say nothing of Jacob Rees-Mogg's work "behind the scenes" and Development Secretary Penny Mordaunt's "fiery polemic" before conference even started.
But with all these Machiavellian manoeuvres taking the limelight, what about human rights?
Amnesty ran an excellent fringe event (of course) on Global Britain and women human rights defenders, with Foreign Minister Alistair Burt and former International Development Secretary Andrew Mitchell joining Peter Oborne and our own Director Kate Allen and former Amnesty Turkey Director Idil Eser.
Idil's account of her four-month imprisonment in Turkey on trumped up charges and the situation for human rights defenders in her home country was fascinating, and lots of important issues were raised including the need to fund women's rights movements worldwide, ensure international accountability for human rights abuses and tackle shocking online abuse and harassment of women who speak out here in the UK.
But we also need to see progressive visions for human rights from the UK government – and it seemed their minds were on other things.
We very much welcome Jeremy Hunt's call for the Iranian authorities to let Nazanin Zaghari-Ratcliffe come home. The Foreign Secretary has been consistently active and supportive on this since he took office – it's clear he is personally committed to trying to secure her release and that is incredibly important.
But a clear articulation of the government's post Brexit commitment to human rights worldwide – with recognition of human rights defenders being at the heart of that – is also important, and we haven't seen that yet.
And in Sajid Javid's speech, there was a lot of talk about the UK being a safe and tolerant home for its citizens (and in fringes about righting the wrongs of Windrush), but nothing about changing the policies of his department to make that commitment a reality.
If the Home Secretary means what he says about ending the "hostile environment", he needs to scrap the profit-making fees, an outrageous 'good character' test for children, and woeful decision-making and practices that block thousands of people from registering as British citizens, despite their right to do so.
And he needs to ensure families can be together, by expanding refugee family reunion rights to allow children, the only group not allowed to sponsor relatives to join them in the UK – ironically since arguably they are most in need of doing so – to be able to bring their parents or siblings here to safety.
Nothing feels certain in UK politics at the moment; who knows where we'll be this time next year. But one thing is for sure – we need more and better commitments on human rights, whoever the leaders are.
About Amnesty UK Blogs
Our blogs are written by Amnesty International staff, volunteers and other interested individuals, to encourage debate around human rights issues. They do not necessarily represent the views of Amnesty International.
View latest posts