We Shall Fight Until We Win: Celebrating a century of pioneering political women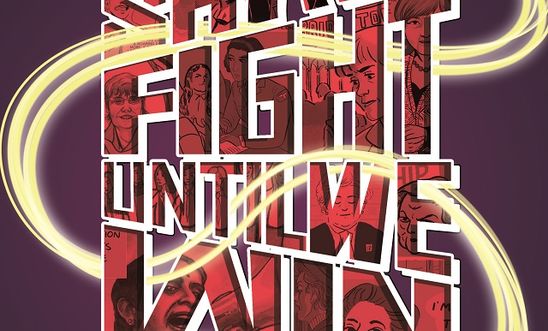 At 404 Ink we publish books that we want to read in the world – whether this is surreal working class fiction in Chris McQueer's Hings, or women raising their voices to tell their own stories in today's political climate via Nasty Women. In August 2017, the BHP Comics team, an amazing independent comics publisher in Glasgow, came to 404 to discuss an idea: teaming up to publish a graphic novel anthology to mark the centenary since the Representation of the People Act. We knew immediately it was a project for us.
Spotlight on powerful women excluded from history
2018 marks 100 years since the first wave of women were granted the right to vote in the UK – it's important to note at all stages of the project, and the centenary, that this was for a select few women. It would take years to rectify this, and as such it felt a particularly important time to reflect on the political pioneers, the protestors and activists, the trailblazers. Women have often been excluded from their own history, and this was an opportunity to celebrate a momentous occasion while shining the spotlight on stories that can rest outside the mainstream narratives - alongside some better known - and bring them to a new generation of readers.
We Shall Fight Until We Win is the result. On top of working with a stunning array of writers and illustrators and watching them weave magic, it was a learning experience as we got to know stories that were excluded from our own education. 
Fighters and trailblazers
We had all learned about Emmeline Pankhurst, but Sophia Duleep Singh was absent in our classroom: a prominent suffragette and one of several South Asian women who forged the way for women's rights in Britain. She had described her sole interest and life's purpose as 'the advancement of women', a goal that she certainly achieved. Durre Shahwar and Hari Conner have done a beautiful job in capturing her life's work and impact.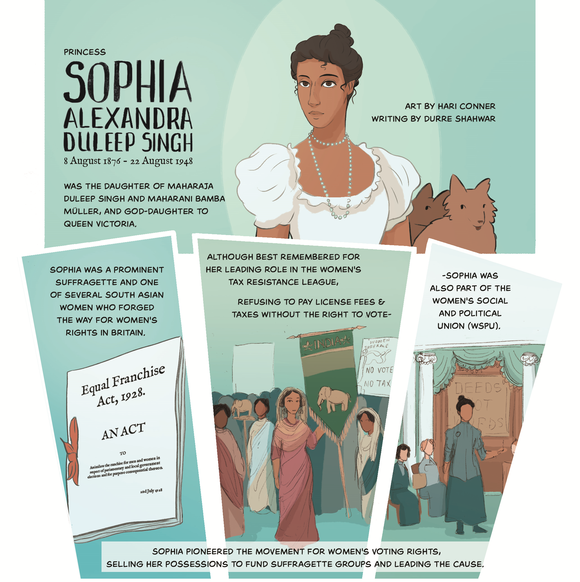 The Glasgow Girls, by Kathryn Briggs, brings the story of an inspirational group of school girls back to a national audience. Seven young women who highlighted the poor treatment of asylum seekers whose rights of appeal had been exhausted. The Drumchapel students' activism began in 2005 in response to the detention of one of their friends, Agnesa Murselaj. They used their voices, spoke for what was right, and made an incredible impact on many people's lives.
Hannah Berry's comic on Jayaben Desai, strike leader in the 1970s, takes readers through the Grunwick dispute and her integral role, with Berry concluding, "The dispute confronted preconceptions about women of colour. It demanded that their struggles be recognised, that their voices be heard."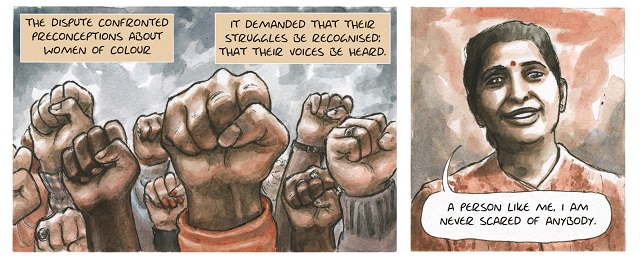 Our comic on Jackie Forster, reporter and lesbian rights activist, written by Wei Ming Kam and illustrated by Shazleen Khan, not only highlights the importance of her work, but the onus to tell her story with accuracy. Ming noted at the London launch that her research found many conflicting dates and information; she queried who was missing if the prominent voices were riddled with inaccuracies. Her comic ends by noting that Jackie, like many others in the gay movement, is not known by the public at large, but in 2017 her image was brought back to the UK's attention again as a Google Doodle. 
A stand out comic, and vital inclusion, was Sabeena Ahktar and Erin Aniker's dedication to the 60% - those women who remained excluded from the vote, and find themselves outside of the centenary narrative. Those who didn't get the vote but continued with their lives, raising families, powering forward, continuing to live life while the law didn't consider them equal. It's an important reminder that while there is much to celebrate at this 100 year landmark, the job was far from done, and it shouldn't be forgotten.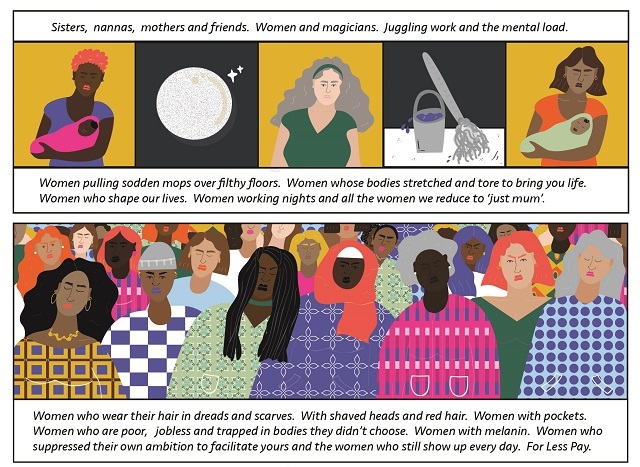 These are a handful of women who have fought, trailblazed, and made an impact on the UK. These are a snapshot into their stories, but it's important to celebrate how far the fight for equality has come in these last 100 years while acknowledging there are still ways to go. We Shall Fight Until We Win our chance to pause, look back, celebrate and then look ahead.
This blog was written by independent publisher 404 Ink 
About Amnesty UK Blogs
Our blogs are written by Amnesty International staff, volunteers and other interested individuals, to encourage debate around human rights issues. They do not necessarily represent the views of Amnesty International.
View latest posts