Guantanamo kid: The True Story of Mohammed El-Gharani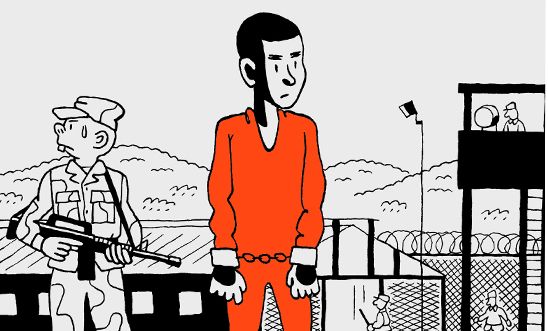 Guantanamo kid
By Sonia Laso, publishing programme volunteer, Amnesty UK
I recently wrote an article about graphic novels and human rights. Their incredible power comes from strong images and an ability to unravel complicated events by suggesting instead of explaining.
In my accompanying list of recommended graphic novels for children and young adults, I would have included Guantánamo Kid if it had yet been published. Now it is, and we can all enjoy it. It is a brilliant non-fiction graphic novel about one of the youngest detainees at Guantanamo Bay. At the tender age of only 14 - or maybe 13, he doesn't know for sure - Mohammed El-Gharani was unjustly imprisoned for 7 years in the US detention centre that is infamous for the many human rights abuses perpetrated there. The book splendidly depicts the moments before Mohammed was mistakenly captured, his imprisonment at Guantanamo Bay and also the years after his release.
The rain starts with a drop of water
The book shows how Mohammed El-Gharani's life is turned upside down  in an instant. With family origins in Chad, he spends his childhood in Saudi Arabia, where as a Chadian he is denied education. Unable to prosper, the boy decides to travel to Pakistan where he can learn to repair computers and study English. His family are strongly opposed but he is so determined he takes the risk and set off without saying goodbye. What could go wrong?
In Pakistan he is welcomed by the family of his best friend back in Saudi Arabia. He studies, learns, plays and prays. Everything seems to be going well, but it is 2001 and the world is shocked by the brutal 11 September terrorist attacks in the United States. The 'war on terror' kicks off and four months later the facilities at Guantánamo Bay open their doors.
One day, upon leaving his Friday prayers in a mosque in Pakistan, Mohammed El-Gharani is unjustly and mistakenly arrested. He isn't a terrorist and he doesn't belong to any criminal gang, much less to Al-Qaeda, but that doesn't stop the Pakistani authorities and the US government from stealing the next seven years of his life. 
A child in Guantanamo
The creation of this almost biographical graphic novel is the result of conversations between journalist and researcher Jérôme Tubiana and Mohammed El-Gharani two years after his release from Guantanamo. 
Guantanamo Kid deals sensitively with the harsh reality of torture, constant acts of racism and xenophobia. As a result, I recommend it wholeheartedly as a graphic novel that can be read fearlessly and without risk of being traumatized. It even succeeds in using comedy to cushion the emotional impact of the beatings and humiliations suffered by the detainees. Not only does El-Gharani make the reader smile with his pranks, he even makes the Guantanamo guards smile too. Yet in no way does this detract from the story or the horror experienced by the Guantánamo prisoners. Nor do the moments where a kind of friendship is formed between guards and detainees. Where it seems that there is no room for hope, a small woodpecker opens a hole through which the sunlight casts its beam.
Another virtue of this graphic novel is its clever use of maps, plans and illustrations related to the Standard Operating Procedure (SOP), a guide used by the guards learning how to immobilize an inmate or to bury a Muslim detainee. The book also reveals official documents and actual events, such as the signing of an executive order made by the new President Barack Obama ordering the closure of the prison camp at Guantanamo Bay.
Get up, stand up, don't give up the fight
After seven years in Guantanamo Bay, Mohammed El-Gharani's life could never be the same again, not even after his release. The hopeful innocence of a young man with plans for the future are long gone. His unjust imprisonment and ill treatment not only had an impact on his health, such as glaucoma caused by the colored lights used during interrogation sessions, but also caused irreparable damage to his mental well-being, his personal safety and freedom of movement.
Amnesty International endorses this excellent graphic novel since sadly its story is still relevant today. At this time of writing, there are still 40 men detained. Most are Muslims. With the Trump administration signing an executive order to keep the prison open indefinitely in 2018, it is more important than ever to read stories like Guantánamo Kid.
About Amnesty UK Blogs
Our blogs are written by Amnesty International staff, volunteers and other interested individuals, to encourage debate around human rights issues. They do not necessarily represent the views of Amnesty International.
View latest posts