The human rights impact of graphic novels on children and young people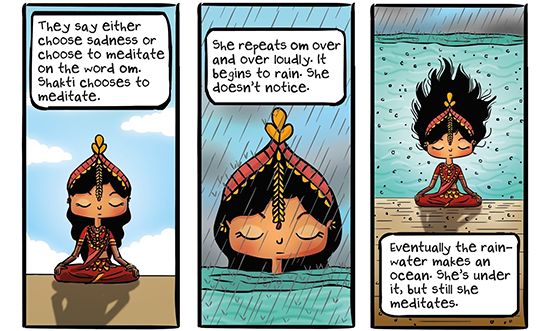 © Pashmina by Nidhi Chanani
By Sonia Laso, publishing programme volunteer, Amnesty UK
20 November 2018 marks the 29th anniversary of the United Nations Convention on the Rights of the Child, the most ratified human rights convention in the world, designed to protect and empower children from birth to 18. If you look at Article 29, you'll see it calls for countries to uphold the 'development of the child's personality, talents and mental and physical abilities to their fullest potential'. Article 17 addresses the influence of the mass media and children's book publishers 'to disseminate information and material of social and cultural benefit to the child and in accordance with the spirit of Article 29'. 
But what about children and young people who are not keen on books? Well, the fabulous stimuli offered by graphic novels may be the answer. 
It was not until I was an adult and had finished my studies in journalism that I read my first graphic novel, the Pulitzer prize-winning Maus. Not only was I learning history, I was also having fun. It was a successful introduction to the genre which led me to delve eagerly into this new literary world.
I have since read brilliant graphic books such as Persepolis by Marjane Satrapi, Pyongyang by Joe Sacco or Fun House by Alison Bechdel. Most of the titles touch on important social-political issues. However, I was completely unaware of the topics used in graphic novels for children and if there really was a market for a younger audience. 
So, when Nicky Parker, head of publishing at Amnesty, asked me to write about the use of graphic novels as a way to inspire children about human rights, I found it a great challenge. But I got to work, and to my surprise, I soon found out that both libraries and bookshops have whole sections dedicated to this fabulous genre.
Among all the mixed bag of titles, I found gems of the narrative illustration that I wish had been available in my childhood. The stories created the same effect on me as MAUS and Persepolis had a few years ago. However, the topics are no different from those that can be found in any good work of fiction. So, why does the message of the graphic novel seem to reach me (the reader) more easily, more directly? Why do they have such a profound personal impact? The answer was right before my eyes: it's the illustrations.
Images help to learn, attract attention, explain complicated concepts and inspire. In fact, humans have more neurons dedicated to vision than the other senses have combined. In a traditional novel, a scene can be described in detailed text that can occupy several pages. By contrast in a graphic novel the same scene is immediate and jumps out of the page, making the learning process much easier and more fluid.
Dense text can be daunting even for adults. For children and young people who are reluctant to read, graphic novels can be a great way to get them hooked into a story by just opening the book. Graphic novels can help to motivate children who are hesitant about long paragraphs. When it comes to acquiring information, reading text can be a slow and tedious activity. However, illustrations can make the process of absorbing information much more natural, attractive and fast.
The benefits of using texts and visuals combined create a powerful way of exploring human rights with children and young people. The illustrations can help to cushion difficult issues by simply suggesting instead of explaining – they show, they don't tell. It may be easier for readers to understand the motivations of the characters because they can witness the thoughts and dreams coming out of their minds. Images evoke emotions; words are not always needed. 
Please take a look at our list of recommended graphic novels for children and young adults.
About Amnesty UK Blogs
Our blogs are written by Amnesty International staff, volunteers and other interested individuals, to encourage debate around human rights issues. They do not necessarily represent the views of Amnesty International.
View latest posts