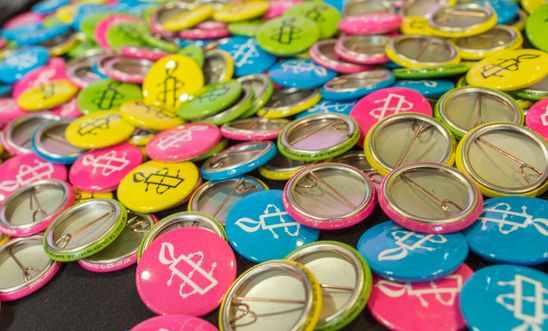 © Gilles Moulin / Amnesty International
The Amnesty Scotland office was founded by Ruth Adler who was employed as the Scottish Development Officer in 1991. Befitting the new location, the Scotland Office launch in 1992 centred on a Burns Night Supper. A scholar and passionate campaigner for women's and children's rights, Dr Adler also established the Scottish Child Law Centre and was a founder of Scottish Women's Aid. 
Sadly, Ruth died in 1994 while in service for Amnesty. According to Professor Juliet Cheetham OBE, it was in her Amnesty role where she worked until a few days before her death that Ruth brought "her history, her philosophy, her head and her heart." 
Dr Adler's name lives on not only through her family, but through the Ruth Adler Prize and the Ruth Adler Lecture on Human Rights, an annual event established in her memory, held at the University of Edinburgh Law School.
The Scotland Office team are delighted to be able to celebrate her memory, and are inspired by her work. In 2017, a plaque honouring Ruth's contribution to Amnesty in Scotland as well as her work with the Scottish Child Law Centre and Scottish Women's Aid, was unveiled by her friend, author Sara Sheridan. 
The Scotland Office is now based at 66 Hanover Street in central Edinburgh.
Our team is made up of:
Naomi McAuliffe, Programme Director Scotland
Pauline Kelly, Media, Campaigns and Human Rights Education Officer @AmnestyScotland
Liz Thomson, Campaigns Officer
Lois Wolffe, Major Gifts Fundraiser
Juliet Swann, Scotland Team Assistant
Mhairi Snowden, Human Rights Consortium Scotland Co-ordinator
You can contact us on 0131 357 8580 or by emailing Scotland@amnesty.org.uk
About Amnesty UK Blogs
Our blogs are written by Amnesty International staff, volunteers and other interested individuals, to encourage debate around human rights issues. They do not necessarily represent the views of Amnesty International.
View latest posts