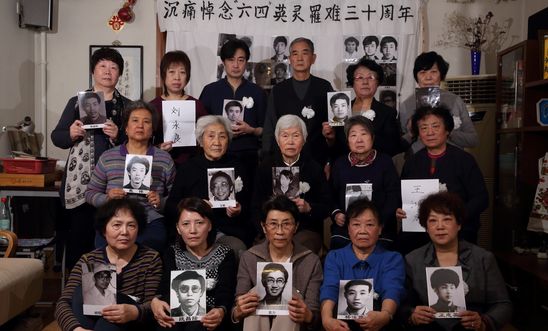 Tiananmen Mothers continue to call for an open and independent inquiry into the 1989 massacre.
This blog post contributor has chosen to remain anonymous for their own security 
#Remember64: 30 years since the brutal 1989 crackdown in Tiananmen Square.
Imagine if your loved one never made it home, no one explained what had happened, and you were forced not to ask any questions? This sounds like a nightmare but it is a reality that happened to many Chinese citizens when their friends and family stood up in peaceful protest to demand political and social reform in China 30 years ago.
On the night of the 3rd June 1989, the Chinese military opened fire at unarmed student led protestors around Beijing's Tiananmen Square, clearing it of protesters by dawn. It was a night of bloodshed. There has never been any confirmed official death toll from that evening, and friends and families are still demanding an explanation from the government after the crackdown.
Now 30 years later, those who had their lives affected are still fighting to keep the story of what happened on that evening, and the memories of those lost alive. Many family members of deceased protestors are continuously forced by the Chinese government to quell the harsh truth of the incident that took away the lives of their loved ones, as if they never existed at all. The more the Chinese government tries to suppress this fact and silence those who dare to speak, the less campaigning organisations such as Amnesty will let them avoid any responsibility.
"The Chinese government wants to pretend the bloody massacre never happened - but we will not rest until we have the truth independently investigated and those responsible brought to justice"
Dr. Shao Jiang - one of the original student protest leaders who was in Tiananmen Square on the 4th June
Today, the Chinese Government continues its attempts to wipe out the past and re-write Tiananmen history: From downgrading the massacre to "The Tiananmen Square incident" to ensuring it is a forbidden topic to those who seek the truth in China. Meanwhile, activists who wish to commemorate those killed are at risk of being threatened, harassed and detained by Chinese authorities. 
"The Chinese government must accept that no amount of suppression will ever erase the horror of the wholesale slaughter that took place in and around Tiananmen Square"

Roseann Rife, East Asia Research Director at Amnesty International
Every year on the 4 June we remember those peaceful activists who lost their lives and this year we mark the 30th year anniversary for the Tiananmen crackdown. It's a day to commemorate those who can't be here today because they stood up for what they believed in but it's also a time for us to persistently demand justice for those who are forced to live in silence.
Amnesty International reiterates its calls on the Chinese government to:
Publicly acknowledge the human rights violations which occurred in the Tiananmen crackdown of 1989

Launch an open and independent inquiry and hold those responsible for human rights violations accountable

Provide compensation to victims of the 1989 crackdown and their families

Cease harassment and prosecution of those commemorating or speaking out about the 1989 Tiananmen protests and those more generally exercising their human rights to freedom of expression and peaceful assembly

 
On this day, as activists outside China we are spreading the word to let the Chinese government know that we #Remember64.
"A first step towards justice would be to finally allow people in China, including elderly parents whose children were killed in the crackdown, to commemorate the victims of June 4th."

Roseann Rife, East Asia Research Director at Amnesty International
About Amnesty UK Blogs
Our blogs are written by Amnesty International staff, volunteers and other interested individuals, to encourage debate around human rights issues. They do not necessarily represent the views of Amnesty International.
View latest posts