Tep Vanny: Jailed for defending her home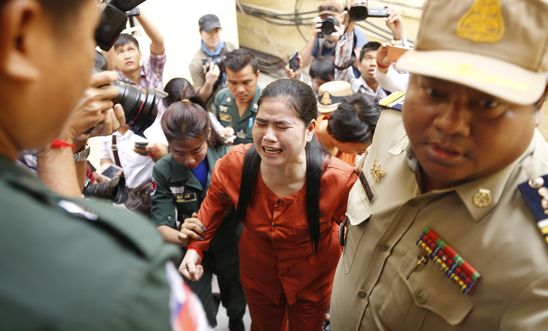 Tep Vanny approaches the court © Amnesty International
On 23 February 2017, Cambodian land rights activist Tep Vanny was sentenced to two and a half years in prison for 'intentional violence with aggravating circumstances' – her crime was mobilising the local community in Cambodia's Boeung Kak Lake area in central Phnom Penh to protect their homes in the face of government and private developer's efforts to evict. For more than ten years, Tep Vanny has struggled to keep intact this community that has been repeatedly torn down to make room for private developments aimed at the tourist market. The unsettled political climate in Cambodia fosters a hostile environment for land rights activists and Tep Vanny has suffered government backlash for her work.
This month, an award-winning documentary featuring Tep Vanny is showing across the UK, including in Glasgow and Edinburgh. You can find your local screening here, or contact the film-makers to arrange a screening local to you. 
Background
In 2007, Phnom Penh City Hall and the development firm Shukaku Inc (associated with Cambodia's powerful ruling party through Senator Lao Meng Khin)  announced plans to transform the Boeung Kak Lake area into a sprawling mixed-use development. In the years following, thousands were evicted and a protest movement grew among the disgruntled residents.
Since then, the lake has been filled in, close to 4,000 families have been forcibly evicted or resettled, and only recently has Shukaku started developing the land into what it calls "Phnom Penh City Center The Pearl of Cambodia".
People have continually defended their homes from destruction, and what remains of their living space is surrounded by barbed wire and concrete fencing, making access unfairly restricted.
Immediately, homes, guesthouses and restaurants along the lake started flooding. An injunction filed to hold Shukaku responsible for the consequent collapse of houses was rejected by the Appeal Court. As villagers desperately tried to save their belongings, City Hall began offering them compensation to coerce them to leave; they were offered  $8,500 to leave the area or $500 and a small apartment in Phnom Penh.
In many cases, armed police and district security guards intimidated villagers into accepting these options, and if met with resistance, forcibly evicted people from the lakeside.
Judicial Harassment
Tep Vanny is one of the leading group of women who have consistently led protests to try and save their homes. She was arrested on 15 August 2016, at a 'Black Monday' protest. These are regular Monday protests calling for the release of human rights defenders.
At this protest, Tep was charged with 'incitement to commit a felony'. After her arrest two sets of charges were added – both historical.
On 7 February this year, the Supreme Court in Phnom Penh upheld her  conviction and 30-month prison sentence.Saturday 7 April marked Tep's 700th day in prison.
In a letter to The Phonm Penh Post from prison after her appeal was denied in August 2017, Tep said her incarceration this time has a different character.
She wrote:
"I have a clear feeling that the government will take another case to put the burden on me to stay in jail.

This time the government has arrested me in order to silence my voice and the activities of the Boeung Kak community once and for all,

They are intentionally prolonging my incarceration  - and isolation, by not trying cases or enforcing sentences in cases involving other lake residents, leaving me alone in jail

I fear my jailing will have an effect on the community's spirit, causing them to reduce their activities.

My life is like hell. My mother is getting old and her health is not good but she has to work as a motorbike cleaner to raise my two children, whereas, I am living in prison as a poor divorcee.

The release of my fellow inmates, the Adhoc 5, offered me the only hope I have had in a while. When they were released, I had another feeling that the light of justice is not too far from me, I hope that I have freedom soon.

Even though I am in jail, I am handcuffed and I am wearing prison uniform, the reality is that I am forever innocent."
Supporters targetted
Supporters of Tep Vanny, who hold vigils, show support and have protested her imprisonment have been harassed, assaulted and imprisoned.
At the trial on 23 February 2017, around sixty of her supporters gathered outside the court.
Police violently dispersed about thirty-five women and children who were sitting peacefully outside the court.
The women and children were forcibly dragged from the area, resulting in three of the women sustaining injuries, two of whom are from the Boeung Kak Lake community.
On 27 March 2017, activists were arrested and questioned for more than 10 hours for conducting a small "Black Monday" protest calling for the release of Tep Vanny and "The Adhoc 5" They were let go in the evening. They had held a number of 'Black Monday' protests previously without arrest.
Family waiting
Vanny's daughter, Kong Panha, who was able to briefly meet her mother as the judges deliberated the case, said she just wanted her mother to return home. Vanny said in court her daughter was ill and needed care.
Kong said
"When she is not at home, it is difficult for me because no one takes care of me, when my brother asks for our mother, I tell him that mum is about to come back to us."
Kong Panha is too shy to say much more about her mother's time in prison, but Vanny's mother, Sy Heap, pleaded with the court, local officials and even Prime Minister Hun Sen to stop charging her daughter with crimes she did not commit.
"She did not commit any crime. The court should find justice for my daughter. They put her in jail for a year and that should be enough," 
At the February 8 hearing, Tep Vanny broke down as she reiterated the lack of evidence against her.
She pleaded to be allowed to return home to her two children and her ailing mother.
Take Action!
Show your solidarity with Tep Vanny - take action! Sign the petition and call on the Cambodian government to stop the crackdown on human rights defenders and release Tep Vanny immediately and unconditionally, and drop all charges against her.
Attend a screening of the award documentary 'A Cambodian Spring' featuring Tep Vanny and other Boeung Kak Lake Human Rights Defenders. The film is showing at Glasgow's GFT on 23 and 24 May and the Cameo in Edinburgh on 25 May – and at 19:50 on 24 May and 25 May will be followed by a Q&A with director Chris Kelly and the Venerable Sovath. Or contact the film-makers and arrange a screening local to you. 
Participate in our Wiki-Edit-A-Thon adding and improving Wikipedia entries for Women Human Rights Defenders, including inspiring activists like Tep Vanny. Saturday 19th May, at Glasgow Women's Library.
About Amnesty UK Blogs
Our blogs are written by Amnesty International staff, volunteers and other interested individuals, to encourage debate around human rights issues. They do not necessarily represent the views of Amnesty International.
View latest posts