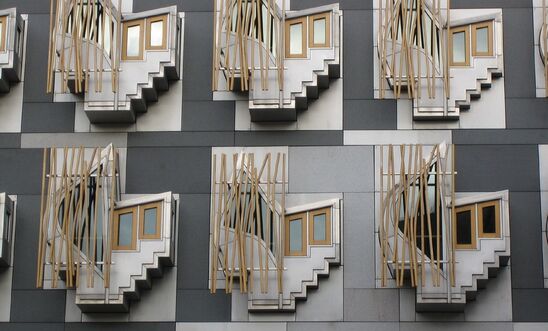 As Scotland heads to the polls to elect its next Parliament - at Amnesty Scotland we've been analysing how manifestos measure up on human rights.  
In December 2020 we met with representatives from the main parties to discuss our policy priorities - which you can read more about below. From the promise to enshrine strengthened human rights protections in Scots law, to examining the use of force by Police Scotland - we're delighted to see that some important asks made it into manifestos, and we look forward to working with all parties to make progress in these, and many other areas. 
Strengthening Human Rights Law
Amnesty called on all Scottish political parties to ensure Scottish citizens can claim their rights by backing a Bill to be brought forward in the next parliament incorporating into Scots law the economic, social and cultural rights contained in UN treaties.
The Scottish Greens, Labour, Liberal Democrats and SNP all made manifesto commitments to enshrine rights treaties in Scots Law to a certain degree. Most parties are now agreed that the Committee on the Elimination of Discrimination against Women (CEDAW), Convention on the Rights of Persons with Disabilities (CRPD), Convention on the Elimination of All Forms of Racial Discrimination (CERD), and the International Covenant on Economic, Social and Cultural Rights (ICESCR) should be enshrined. With the incorporation of the Convention on the Rights of the Child (CRC) already underway, these manifesto commitments represent the potential for a transformative change in Scotland's human rights framework - which is needed more than ever as the UK government place the Human Rights Act under review and key rights protections are lost through brexit. Amnesty will however continue to lobby for the maximum degree of incorporation of rights treaties, as we believe the next Scottish government can go further.
Accountability in Policing 
Amnesty has long standing concerns about the apparent lack of data Police Scotland collects, analyses and regularly publishes relating to its activities - particularly 'use of force' by officers. Transparency is vital from police forces world-wide to ensure that human rights are upheld and to guard against discriminatory policing. We're pleased to see solid commitments on increasing police accountability and transparency from the Scottish Greens and Scottish Labour. In 2020 Amnesty raised concerns with the Scottish Parliament's sub-committee on policing, and then convener John Finnie about Police Scotland's use of 'spit hoods', particularly during the pandemic. The Scottish Greens have committed to working to restrict 'spit hood' use, while promoting the minimum use of force by police at all times. We also welcome Scottish Labour's important commitment to "address the infrastructure problems with data collection that undermine transparency and scrutiny" in Police Scotland.
External Affairs 
Since devolution the Scottish government has sought to grow relationships with countries in the global north and south. Currently it has offices across North America, Europe and China, and gives aid money to projects in partner countries Zambia, Rwanda, Malawi and Pakistan. 
This activity brings with it a responsibility to champion human rights internationally. Amnesty has long argued that the most effective way for governments to achieve this aim is to centre the experiences and accounts of Human Rights Defenders (HRDs) working in these countries in policy making. In our manifesto asks we urged parties to consider the formation of a strategy to advance the protection and support offered to HRDs from Scotland.
Amnesty welcomes commitments from most parties to maintain or increase the international development budget and are pleased to see a specific commitment from Scottish Labour to aiming greater development assistance towards HRDs and civil society orgs in Scotland's partner countries. The Scottish Greens pledge to use Scotland's trade links, including the Scottish government's Beijing office, to hold China to account over human rights abuses is also a key commitment.
Notably the SNP's manifesto commits to adopting a feminist foreign policy. In practice, feminist foreign policy (FFP) remains a young concept which aims to centre peace, demilitarisation and gender equality while prioritising the experiences of women and marginalised groups. Only a very small number of nations have officially adopted it. If the SNP is elected as Scotland's next government Amnesty will seek to engage with ministers about the development of FFP with the aim of elevating the voices of women and marginalised people in Scotland's partner countries.
Downloads
About Amnesty UK Blogs
Our blogs are written by Amnesty International staff, volunteers and other interested individuals, to encourage debate around human rights issues. They do not necessarily represent the views of Amnesty International.
View latest posts