The solutions to climate crisis are known – now is the time to act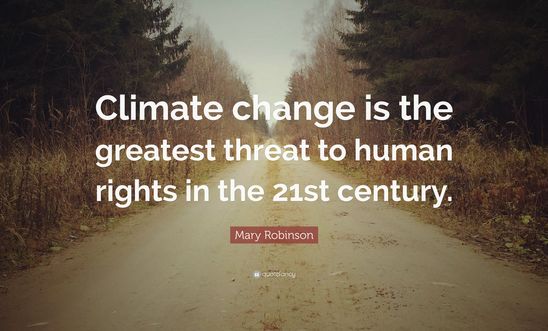 Elizabeth Thomson, Campaigner at Amnesty Scotland, reflects on the Scottish Parliament's recent debates about climate change, and why climate change is a human rights issue.
Recently the Scottish Green Party (SGP) used their parliamentary debating time to declare a 'climate emergency' - and call for Scotland to set strong emission reduction targets. The debate came after more than a million inspiring young people took part in climate school strikes earlier this month to protest the most catastrophic issue facing them throughout their lives.
Amnesty International provided a briefing to all MSPs ahead of the SGP debate explaining why climate change is a human rights issue. The link between the two has been recognised time and again by UN treaty bodies, agencies and offices. The Human Rights Council warns that Climate change directly threatens the full and effective enjoyment of a range of human rights, including the rights to life, water and sanitation, food, health, home and housing, self-determination, culture and development. It also threatens prospects for sustainable development and the rights of future generations.
A recent study by the Intergovernmental Panel on Climate Change (IPCC), shows that keeping global warming below 1.5 °C above pre-industrial levels could still curb the worst human rights impacts of climate change. If emissions continue at their present rate globally, we are predicted to exceed 1.5°C between 2030 and 2052 and hit 3°C by the end of this century. 
The IPCC study sets out the massive differences between the 1.5°C and 2°C scenarios. For example, it predicts that by 2100, sea level rise would be around 0.1 m lower with a 1.5°C scenario compared to 2°C, and that this would mean approximately 10 million fewer people are expected to be exposed to related risks, such as flooding-related deaths and displacement.
Yesterday Parliament voted to agree Stage 1 of the Scottish Government's Climate Change Bill – which sets out the government's renewed targets to reduce emissions and the steps it will take to tackle climate change. Experienced and expert campaigning organisations are concerned that the SNP Government is not going far enough. The science is very clear that we need to take urgent action within the next decade, but the targets set by the Bill will not cut emissions fast enough to allow Scotland to play its part in keeping the global temperature within that 1.5°C bracket.
While a global temperature increase of 1.5°C will still have dramatic and devastating effects, an increase of 2°C would change our world beyond recognition – but It's not too late to avert the worst case scenario.
As our briefing to MSPs states, climate change must be recognised as a human rights issue not only because its devastating impacts affect the enjoyment of human rights, but also because it is a man-made phenomenon which can be mitigated. The solutions to climate change are known – it is time to enact them.
About Amnesty UK Blogs
Our blogs are written by Amnesty International staff, volunteers and other interested individuals, to encourage debate around human rights issues. They do not necessarily represent the views of Amnesty International.
View latest posts