Scotland Activists Conference - report!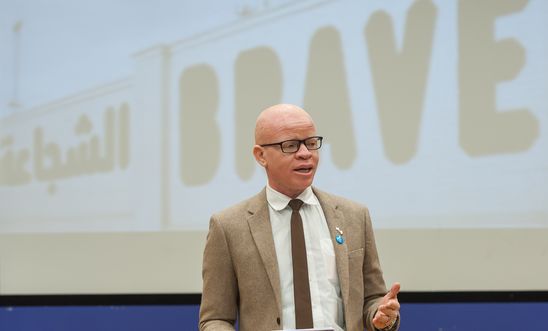 Bonface Massah, keynote speaker at Scottish Conference © Gilles Moulin / Amnesty International
Amnesty local group member, Cathy Crawford, shares her experience of the 2017 Activists Conference
It was a cold sunny morning for our conference in Edinburgh, and I would say our spirits were as good as the sunshine and as the day developed we were greatly warmed by the contents of the day's conference. As a veteran of quite a few Scottish conferences over the last seventeen years while I have been a member of Amnesty in Scotland, I feel that this year's was particularly inspiring. 
We were welcomed by Malcolm Dingwall-Smith, our amazing new Scottish Regional Representative: everyone is delighted to have a rep again, and we are very lucky to have as committed an activist as Malcolm. It was clear from the programme outlined he had worked very hard to make a worthwhile day. There was a balance between updating us on the latest campaigns, encouraging more effective activist action, giving more details about recent conflicts with human rights implications and informing us all of the strategic plans for the Amnesty Scotland Office for next year. It all seemed interesting and a packed agenda with tight timings, but that was what we were there for! 
For me the highlight of the day was the keynote speaker, Bonface Massah from Malawi. He was inspirational, a human rights activist who lives his commitment on a daily basis. As a person with albinism living in Malawi he is at risk of criminals who play on the superstitions and ignorance of people who think there is some supernatural power in the bones of people with albinism, and will kill people with albinism to trade in their bones He decided not to accept this situation and has campaigned tirelessly to establish the rights of people with albinism in Malawi. And it was so encouraging to hear that with the campaigning that Amnesty members undertake worldwide he has been able to improve the lives of people in Malawi, and in surrounding countries which have similar attitudes. He gave credit to the power of Amnesty that he was able to talk to governments and get laws implemented. It was a lesson in how the combination of an outstanding hero and the effect of numbers of ordinary members of Amnesty can together make a difference. 
Not many have the commitment and courage of Bonface, but we at the conference were made to feel that we had a vital role to play. That is such an important part of attending conferences like this, and it made the day go exceptionally well and I felt everyone was inspired to do more as a result of being there. Other plus points of the day were seeing friends from other groups, a delicious lunch and the feeling that whether we were staff, new or old members, we were united in wanting to do what we could for Amnesty and human rights around the world.
About Amnesty UK Blogs
Our blogs are written by Amnesty International staff, volunteers and other interested individuals, to encourage debate around human rights issues. They do not necessarily represent the views of Amnesty International.
View latest posts