Police Must Protect the Right to Protest at COP26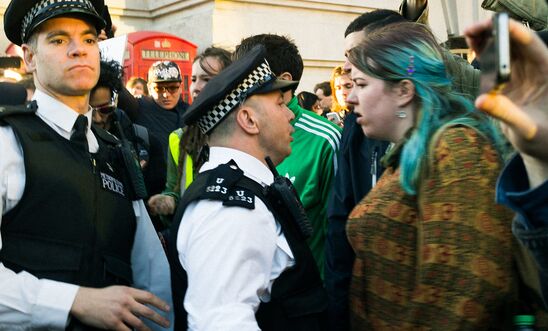 © "Time To Act 2015 Occupy Democracy Protest London Police in Westminster Creative Commons Climate Protest" by Creative Commons Photos For London & Brighton
Ahead of the UN Climate Change Conference (COP26) that will begin in Glasgow this weekend (Sunday 31 October), Amnesty International UK has urged police to ensure the right to peaceful protest is protected.
Naomi McAuliffe, Director of Amnesty International UK Scotland, said:
"Peaceful protest is one of the most effective ways for ordinary people to have their voices hard.
"In years gone by, we have seen broken promises from police forces to protect protesters - so we will be closely watching how police approach the protests at COP26.
"It's been disheartening to see climate protesters branded as 'eco-mobs' and 'extremists' in recent weeks. No-one should be discouraged from making their voices heard on the human rights crisis that is climate change.
"Police Scotland has assured civil society that it will uphold its legal duty to protect the right to protest peacefully, but we know that this approach can be contingent on both political and public support which can turn quickly.
"During COP26, we're urging all police forces operating in Glasgow to protect protesters, and to take a zero tolerance approach to any discriminatory policing practices."
Amnesty International is the world's leading human rights organisation with more than 10 million supporter
About Amnesty UK Blogs
Our blogs are written by Amnesty International staff, volunteers and other interested individuals, to encourage debate around human rights issues. They do not necessarily represent the views of Amnesty International.
View latest posts