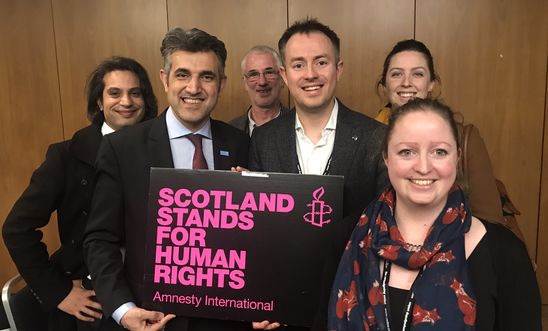 Amnesty International is one of multiple NGOs who are campaigning to change the laws around refugee family reunion, and on Friday 16 March we arrive at a pivotal moment. The proposal to change the law is being debated at Westminster and the rules are that at least 100 MPs need to show up and vote to support the change in the law. 
Scottish MP Angus MacNeil has introduced a Private Members' Bill that would allow more refugee families to be reunited in safety in the UK. The bill has been co-sponsored by a cross-party group of MPs who feel the current refugee family reunion rules are too restrictive. 
Unlike adult refugees, children who are in the UK alone and who have refugee status have no right to be reunited with even their closest family members. As a result of this rule, children living in the UK are unable to live in safety with their family in perpetuity. 
In not allowing child refugees to sponsor even their closest family members to join them, the UK is an outlier within Europe. Being reunited with close family is a way to ensure the welfare and safety of child refugees in the UK and would improve their chances of integration and recovery. 
The Scotland Office took the campaign to the Scottish Labour Party Conference in Dundee last week, where, along with our partners Oxfam Scotland and British Red Cross, we hosted a fringe event to share the reasons for the campaign. 
One of the speakers was the recently appointed CEO of the Scottish Refugee Council, Sabir Zazai. Sabir is himself a refugee from Afghanistan, and he shared a poignant description of his daughter asking if her grandparents would be visiting for her birthday. 
We would ask you to read his story, and if you are moved, as we were, tell your MP to read it too, and ask them to attend the Refugee Family Reunion Bill debate on Friday.  
About Amnesty UK Blogs
Our blogs are written by Amnesty International staff, volunteers and other interested individuals, to encourage debate around human rights issues. They do not necessarily represent the views of Amnesty International.
View latest posts