New Report: Delivering Human Rights In Scotland During COVID-19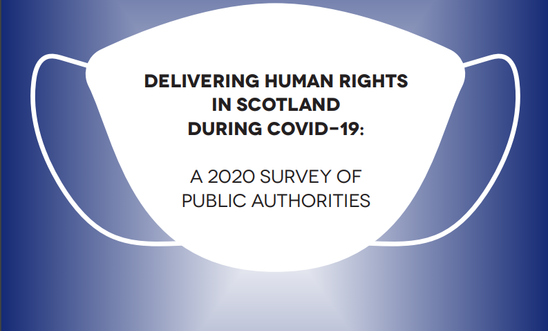 New research from the Amnesty and our partners at the Human Rights Consortium Scotland has found there is little evidence that the human rights of Scottish citizens were taken into consideration as major public service redesigns took place during the 'first wave' of COVID-19 in Scotland.
The findings further strengthen the case for the commissioning of an immediate Covid public inquiry in Scotland. 
The research shows that fragile progress in mainstreaming a human rights approach to decision making across councils and health boards evident in 2019 plummeted in 2020 as the number of human rights impact assessments (HRIAs) informing policy declined dramatically. 
26 councils and health boards surveyed provided evidence that impact assessments including human rights considerations were routinely used to assess policy throughout 2019 – however, this number dropped to 11 for the period March to September 2020 as social care was withdrawn and cancer treatment paused. 
Director of Amnesty Scotland Naomi McAuliffe said that the Scottish Government and public bodies must now learn the lessons of Covid and face accountability for human rights breaches:
"Amnesty has joined with many others to demand a public inquiry into Coronavirus pandemic and the decision-making by governments across the UK. 
"The Prime Minister has announced a public inquiry to be launched in 2022 and the SNP manifesto pledged to start one 'as soon as possible' after the election and we hope to get an announcement soon with the precise timelines. We have highlighted to the First Minister that there is no legal justification for delaying the Scottish inquiry until the UK government begins with its own. 
"But this is already too late. We should already be learning and applying the lessons because this is still impacting on people's lives so dramatically. We need accountability because we need to make sure we learn, learn quickly and mitigate the impact on so many within Scotland."
The evidence shows that human rights are still assigned a subsidiary role in council and health board service design at a time when a rights based approach should be at the heart of Scotland's Covid recovery. 
In March the Scottish Government committed to strengthening human rights protections for Scots in the wake of Brexit and threats to the Human Rights Act. The move was backed by civil society groups lncluding Amnesty and HRCS - however these findings highlight that stringent monitoring of public bodies compliance with legal duties will be vital to make sure new as well as existing human rights laws are upheld. 
Ms McAuliffe added:
"I have written to John Swinney in his role as Cabinet Secretary for COVID recovery to highlight our call for an immediate inquiry and ask that he meet with us to discuss how to ensure Scotland's recovery prioritises those who have been so let down throughout the pandemic."
About Amnesty UK Blogs
Our blogs are written by Amnesty International staff, volunteers and other interested individuals, to encourage debate around human rights issues. They do not necessarily represent the views of Amnesty International.
View latest posts