New Guide - Your Right to Protest in Scotland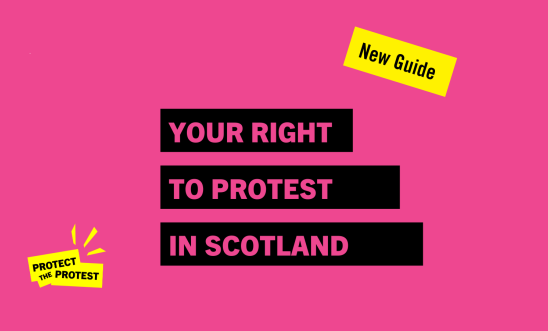 In Scotland over the last few years, there have been many spontaneous outpourings of solidarity including Kenmure Street in Glasgow and a recent demonstration at Nicholson Square in Edinburgh, where assembled crowds blocked Home Office immigration vans. There have also been large scale, organised protests ahead of events like the Conference of Parties (COP) 26 held in Glasgow in 2021 and Donald Trump's visit in 2018. Groups of people defending our rights and organising regular assemblies include the Fridays for Futures Scotland and Refugees for Justice.  
These acts of solidarity and resistance are set against the backdrop of an everchanging and complicated legal landscape around the right to protest. The law is different in Scotland compared to England and Wales. For example, the right to roam means that trespass is treated differently.   
There are also specific areas where protest is effectively banned. In 2021, the Scottish Parliamentary Corporate Body applied to the Home Office and was granted the legal power to restrict protest at Holyrood. There are also ongoing debates about introducing buffer zones to areas providing sexual and reproductive health services in Scotland. 
Whilst Scots law is different to the law in England and Wales, new legislation will impact upon our rights and how we exercise them. The new Police, Crime, Sentencing and Courts Act (2022) which passed the UK Parliament in April, will change sentencing in Scotland for breaking the law relating to public order offenses and give police new powers to impose conditions on protest and remove people from 'unauthorised encampments'. The Public Order Act will be updated as a result.   
Against these ongoing legal changes, groups working to uphold our rights have raised questions and concerns about restrictions to our right to protest, including:  
JRS Knowhow and Amnesty Scotland created an online guide for activists in Scotland, designed to help you navigate the complex legal terminology and to ensure we all know what our right to protest means in reality. Our aim is to provide legally accurate and clear information about your rights. 
The guide covers questions like what protests are protected by law? Do I need a permit to plan a protest? What are the considerations for migrants, visitors and international students participating in a protest? The guide also includes a section explaining how to access legal advice and gives you the opportunity to give us feedback on how we can improve the guide. 
Find out more about our rights to protest by exploring our online resource https://jrsknowhow.org/your-right-to-protest/ 
About Amnesty UK Blogs
Our blogs are written by Amnesty International staff, volunteers and other interested individuals, to encourage debate around human rights issues. They do not necessarily represent the views of Amnesty International.
View latest posts