The march of Pride on the road to justice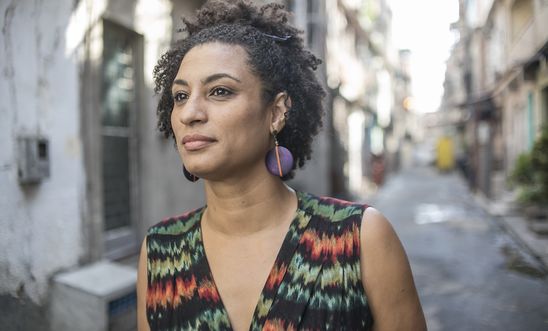 Marielle Franco
This is a guest blog by Amnesty Scotland volunteer Maneeya Saributh
You know it is Pride season when rainbow flags appear to gracefully wave from buildings, shops, transport and other unexpected places; that's if you're lucky enough to live in a country which openly celebrates LGBTI equality. The flag, which is a universal symbol of Pride, celebrates every victorious progression of love, equalities recognised, and the movements that support LGBTI rights and the positive impacts the LGBTI community contribute to the world. 
In Scotland this year we have had an amazing 14 Pride events to attend - hooray!
From colourful Pride carnival parades on streets, to film screenings and debates about LGBTI topics – these are positive acts to commemorate the 1969 Stonewall Inn riots. This was an uprising by the LGBTI community against police raids in New York City, and sparked the movement of protecting free self-affirmation and against discrimination of simply being who we are beyond the restrictive definitions of male and female.
Remembering this historical event not only highlights what happened in the past but reminds us about ongoing antagonism and discrimination that many LGBTI people in the UK and from many other parts of the world are facing every day.  LGBTI people are facing grave abuses and injustices as I write. In several countries around the world including Russia, Saudi Arabia, Uganda and most recently Turkey, Pride festivals are banned. Allies and members of the community who speak up for LGBTI rights are frequently at risk of being physically abused or killed.
We should not forget that Pride is a celebration but also a protest: a great opportunity for every individual to act and demand justice for those that are not here to march with us today. Those brave campaigners that fought their corners to defend human rights for others.
One of them is Marielle Franco. She was a Brazilian politician who was brutally shot and killed in Rio de Janeiro on March 14, 2018. It took almost a year from the horrific incident to see the first sign of progress on the investigation of her case, when Brazilian police arrested two men on March 12, 2019. Alas, this arrest is not the end of the heart-breaking journey for her family in pursuing the justice that Marielle deserves. To date, the investigation has failed to uncover who ordered the murder of Marielle.
A few days ago (27 July, 2019), Marielle would have celebrated her 40th birthday with her family. The tragedy can't be undone, and there is no celebration for Marielle's family, but we are focusing on her case during Pride season and marking 500 days since her killing.
Join us to gather #500WishesForMarielle:
-  Take a picture or make a short video with a lit candle, listing 3 wishes you would like to make for Marielle; 
-  Post on Twitter, Instagram or Facebook tagged #500WishesForMarielle.
About Amnesty UK Blogs
Our blogs are written by Amnesty International staff, volunteers and other interested individuals, to encourage debate around human rights issues. They do not necessarily represent the views of Amnesty International.
View latest posts