A Manifesto for Human Rights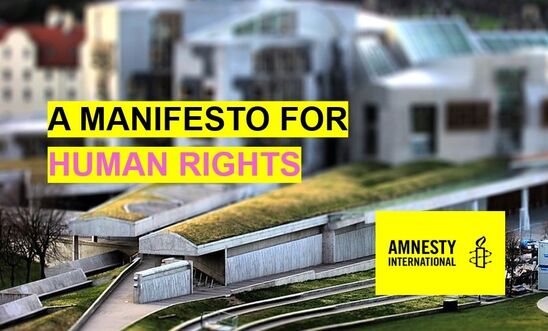 © "Scottish Parliament Tilt Shift" by scottmliddell is licensed under CC BY 2.0
Ahead of the Scottish parliamentary elections on May 6th, Amnesty Scotland has set out the commitments we asked for from parties to ensure Session 6 of the Scottish Parliament is truly transformational in creating a nation where human rights are advanced and upheld for all citizens.
The ten point manifesto urges all political parties to:
Make rights real for everyone in Scotland by strengthening the existing legal human rights framework

Back an immediate public inquiry into the handling of the COVID-19 pandemic in Scotland both to inform future policy and ensure accountability

Extend support to refugees and asylum seekers living in Scotland

Publish a strategy to extend support for HRDs through Scotland's external affairs work

Protect and fulfil the right to adequate housing for all

Strengthen the rights of all women and girls

Ensure companies are held to account for human rights abuses

Reform the Gender Recognition Act

Review the collection and publication of data by Police Scotland

Ban the use of live Facial Recognition Technology
Download our manifesto below for more information, and join our live hustings on April 20th at 7pm via https://www.facebook.com/amnestyscotland 
Downloads
About Amnesty UK Blogs
Our blogs are written by Amnesty International staff, volunteers and other interested individuals, to encourage debate around human rights issues. They do not necessarily represent the views of Amnesty International.
View latest posts