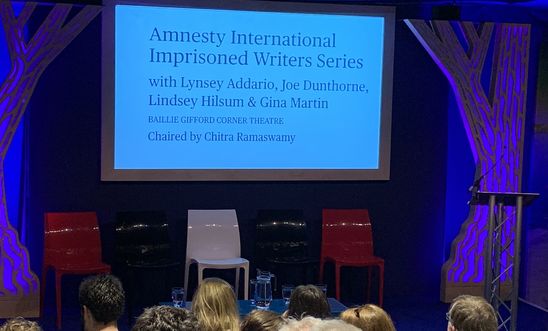 The stage is set
Since 1997, Amnesty International in Scotland has shared the voices of writers whose human rights have been compromised - because they have been imprisoned, exiled or executed for exercising their freedom of expression; because they face challenges in practicing their rights in their daily lives; or because they live in a country where their rights are oppressed.
These events, known as the Imprisoned Writers Series, seek to challenge, move and inspire by sharing writing by those whose freedom of expression is threatened or denied. Each day we are joined by four of the visiting authors who graciously volunteer their time to read the words of writers who cannot be at the Festival.
The Imprisoned Writers Series exists to amplify voices – both voices that cannot be heard because their right to speak has been taken away, and also those voices that we may find uncomfortable to hear. Not all of our authors have experienced detention, but they have all had their rights challenged, and have all fought to claim their rights. 
We asked Sophia Simmill, a volunteer who has been helping with this year's events, to reflect on the Series:
The Imprisoned Writers Series definitely succeeds in its aim to 'challenge, move and inspire'. The writings are presented by the authors with compassion, each linking their own personal reasons to speak out on the behalf of those who cannot to the touching pieces they presented. My huge admiration and gratitude go to those on whose behalf the authors spoke at the imprisoned writers' events – for sharing their experiences and thoughts.

I do not think that I can fully comprehend what it really means to be suppressed, confronted with violence, tortured or imprisoned. And I cannot imagine what it is like to not be heard, to have lost your voice and with it the ability to share your story and to express your feelings.

Hearing all those different stories I am deeply moved, not only by what the authors express - what feelings, images they convey and the stories they share- but even more by the hope they have, the faith in positive change and their faith in humanity that sounds through the lines. In the state of desperation and loneliness many of the writers must find themselves in, I feel it would be understandable if the feelings of hatred and desire for revenge prevailed, yet the works convey such a strong sense of hope. I find it incredibly inspirational how the authors seem to not have lost their courage.

Every piece in and by itself is a powerful voice and a message to our world, amounting to truly valuable, thought-provoking series of events.
Daily Events 
You can read about the themes for each day, and which readings were presented by visiting the Scottish Human Rights Blog. 
We have also prepared a book list! This includes both works that were used during the 2019 events and other recommended reads on the topics. You can download the list at the bottom of this page. 
Thank You
We are grateful to the Edinburgh International Book Festival for supporting the Imprisoned Writers Series; to all the visiting authors who volunteered their time to give voice to those who could not be with us; to the brave writers whose work we shared; to our daily chairs for their time and commitment; to the venue manager, Craig; to the volunteers who have helped at various stages in the process; and of course, to the audience for attending.
Your listening is an act of solidarity that cannot be underestimated. 
To illustrate this, we would like to share with you the closing words from the chair of the event on Saturday 24 August: Jen Ang.
Jen is is a co-founder and Partner/Director  at JustRight Scotland, a charity who use the law defend and extend people's rights. 
Thank you, thank you to our readers for giving voice to today's writings, and thank you all for attending.

It has been a privilege to join you here today, to share the profound experience of witnessing the words of brave, powerful women, who have chosen to shine a light on systemic and structural violence that affects us all.  I know, as we drift towards the exits and disperse into the night, you will still be thinking on some of the troubling things you have heard here today – as will I be. 

It's important, I think, especially for human rights defenders like us, immersed in difficult and traumatic work, that we remember that we cannot change what has happened.  We should listen to and interrogate our history, of course.  But what really matters, is what we choose to do, with all our power, and our knowledge, and all our hearts, our heads and our hands, next.

My challenge to you is this:  That you resolve to seek out authentic voices, and make spaces like this, so that they can be heard.  That when those voices are a bit quiet, you find ways to amplify them.  Most of all, that when you encounter injustice – as we all do, every single day of our lives, that you resolve with me, that you will:  Be not indifferent.
Downloads
About Amnesty UK Blogs
Our blogs are written by Amnesty International staff, volunteers and other interested individuals, to encourage debate around human rights issues. They do not necessarily represent the views of Amnesty International.
View latest posts