Human rights charities ask how they can support protesters in Scotland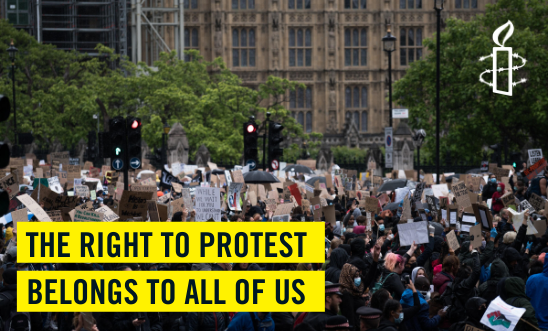 Human Rights charities JustRight Scotland (JRS) and Amnesty International have launched a consultation asking how they can support protestors in Scotland.
The organisations are working together to develop practical resources which will help everyone in Scotland access their right to protest - and are calling on campaign groups and members of the public to help shape the resource. 
Jen Ang, Director of Policy and Development for JRS said:
"In 2021 JRS launched our social enterprise JRS Knowhow to make learning about your rights accessible, inclusive and fun. 
"We're now working with Amnesty on a free public resource about the right to protest in Scotland. Our aim is to answer fundamental questions that people might have when they are thinking about attending or planning a protest.  We'd like to hear directly from the public and campaigners to make sure what we design is practical and useful to everyone - particularly people who have faced discrimination at protests as well as those who have faced barriers in organising or attending protests in Scotland."
Naomi McAuliffe, Scotland Programme Director at Amnesty International UK added:
"We're delighted to be working with JRS Knowhow to help everyone access their right to protest in Scotland. Amnesty campaigns against crackdowns on protest across the world including the attempted assault on this fundamental right at Westminster through the Policing Bill. 
"While the laws around protest are different in Scotland we must not be complacent. We still see some concerning reports surrounding the treatment of protestors by police. The best way to protect our rights is to use them and that is why we want to develop a resource that will empower and enable everyone to organise and attend protests in Scotland. It's important that the resource is shaped by as many voices as possible, which is why we have launched our public consultation."
NOTES 
The consultation can be found at: https://forms.office.com/pages/responsepage.aspx?id=4Jpqw1t5cEWI-rITGoKPf_BpA3pLmUZKsT3g01ipkmpUNEZOVFc2Q1lTVDVOSDcyMEZJVFZKWjgwUC4u and will be open until March 31st. 
About Amnesty UK Blogs
Our blogs are written by Amnesty International staff, volunteers and other interested individuals, to encourage debate around human rights issues. They do not necessarily represent the views of Amnesty International.
View latest posts