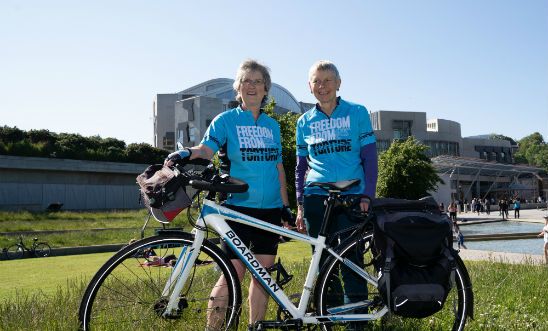 Moira and Shelagh at the launch of the cycle against torture
This is a guest post from Moira Dunworth, a member of the Edinburgh group of Freedom from Torture. 
Freedom from Torture is the only UK-based human rights organisation dedicated to the treatment and rehabilitation of torture survivors. It was set up by Helen Bamber of Amnesty International to offer direct services to survivors of torture. The organisations maintain close links. 
Faced with a dare to cycle from Edinburgh to Hastings with the promise of dinner, Moira Dunworth (65), chair of the Freedom from Torture Edinburgh Supporters' Group, responded that this would be into the prevailing wind but that she would cycle back. From this conversation came the idea of cycling from Hastings to Edinburgh, linking up Freedom from Torture centres and supporter groups. It will be 865 miles in total and take the month of July – 19 days of riding with some rest days. Dr Shelagh King (64), from Melrose, will also ride the whole way and others will join for separate stages.
Moira and Shelagh want to
raise awareness of the work of Freedom from Torture,

connect local support groups and

raise much-needed funds for this work.
The Ride has attracted support from a wide range of people. Other Freedom from Torture groups, Quaker groups and other human rights activists are providing accommodation, food, bike storage and opportunities to share news and information along the way.
'The feel-good factor of this project is amazing. One woman's mad idea has become a national event, with people chipping in as and how they are able.'
One rider is Violet Hejazi, a Syrian Refugee who had never ridden a bike before she encountered this project. She has been given a bike by Bikes for Refugees, Scotland and is being supported to ride it and learn to maintain it by Soul Riders in Glasgow. She is thrilled with this new enrichment of her life. Violet (25) is working towards access to University in Glasgow. She needs to be a lawyer in order to help to sort out so many problems that she sees in the world. Her education in Syria was disrupted by the war there. In supporting herself she has trained as an interpreter and works for the Freedom from Torture Centre, making another lovely connection for this Ride.
The Ride is attracting support from a range of people. Mark Beaumont, the celebrated round-the-world cyclist was kind enough to take time out to speak to Moira and to say:
'I am inspired by the efforts of Moira and Shelagh, both retired and taking on an epic cycle ride from Hastings to Edinburgh alongside Violet, a young Syrian refugee.  Freedom from Torture is a brilliant grassroots charity providing medical and psychological care for survivors of torture here in the UK and I am sure that this Cycle against Torture will do brilliantly at raising awareness and funds.  Chapeau ladies for this adventure of a lifetime!'
Politicians, across borders and parties, are supporting this ride by cycling a bit, coming for photos and expressing support. The Ride was launched on 26th June, the International Day in Support of Victims of Torture, outside the Scottish Parliament where four MSPs, from across the political spectrum, Bikes for Refugees, Scotland, local supporters and staff of Freedom from Torture gathered to wish the cyclists well. Alison Johnston, Patrick Harvie, Liam Kerr and John Mason – all MSPs – took time out of a very busy Wednesday evening to wish the riders well.
The Ride will finish at the Sikh Temple, the Gurdwara, in Leith, with a welcome home meal attended by Deidre Brock, MP, Ben McPherson, MSP and Cllr Adam McVey, Leader of the City of Edinburgh Council. The riders will be accompanied on their final leg by members of Bikes for Refugees, Scotland who have been a huge support on the project. The final stage will also see some Sikh ladies joining for the last couple of miles, including Trishna Singh OBE, Director of Sikh Sanjog, which works to empower and support minority ethnic women in the community.
All in all, this Ride project has turned out to be the catalyst for some wonderful collaboration across communities in the UK. Would that it was always this easy to enthuse people about the need for acceptance of difference in our communities and the need for support for those who have experienced things that most of us cannot even imagine. The Ride can be supported on social media (@cycle2019) and financially on https://www.justgiving.com/campaign/CAT2019.
Other relevant links are
Ride information www.edinburghfft.org/cycle2019  
email address cyclefft2019@gmail.com
Donations page for the team - https://www.justgiving.com/campaign/CAT2019
Twitter @cycle2019
Instagram @cycle2019
Facebook @cycle2019   https://www.facebook.com/Cycle2019/
Eventbrite booking - http://Cycle2019.eventbrite.com
About Amnesty UK Blogs
Our blogs are written by Amnesty International staff, volunteers and other interested individuals, to encourage debate around human rights issues. They do not necessarily represent the views of Amnesty International.
View latest posts