Campaigning for children's rights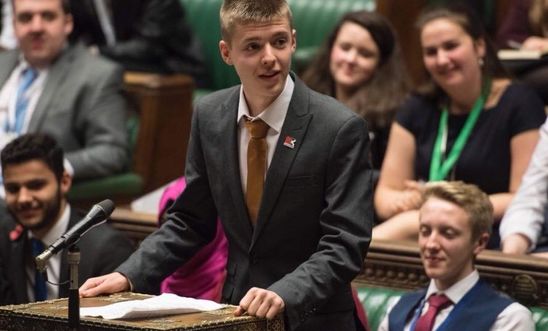 Josh Kennedy MSYP
Josh Kennedy is a Member of the Scottish Youth Parliament (the democratically elected body of Scotland's young people, aged 12-25) for the Renfrewshire North and West area, and one of the trustees of the organisation. He has been involved with the charity for two years. For this guest blog he talks about their recent human rights awareness campaign, Right Here Right Now.
The Scottish Youth Parliament (SYP) comprises 166 representatives from all over Scotland, as well as representing 11 National Voluntary Organisations.
The SYP campaigns on issues important to young people – rights are key to our work as everything we do is drawn from the core principles and of the UN Declaration of the Rights of Child.
Every year we roll out a national campaign voted on by our members after consulting with young people across the country – we have had great success with Right Here Right Now focussed on promoting the rights of young people in Scotland; educating them on their rights, and aiming to empower them to use those rights.
The campaign focused on three main strands: Action, Advocacy and Awareness; all equally important for us to transform Scotland into a society with human rights fully embedded in law.
MSYP's across the country campaigned on issues in defence of our rights, from working to ban mosquito devices, machines that emit a sharp and painful noise that only young people can tend to hear.
We also advocated for the incorporation of the United Nations Convention of the Rights of the Child into Scots Law, something we were delighted to see as a commitment from the Scottish Government in their 2018 Programme for Government.
We recognise that many young people aren't aware of their rights, and/or don't know how to realise those rights. Encouraging young people to get involved and find their voice is at the core of the work we do and recognising that human rights underpins it all is essential.
To truly fulfil this aspect of our campaign we took several steps to raise the awareness of young people's rights and what using these rights might mean.
Members of the Youth Parliament were trained on their rights, and became ambassadors to raise the profile of rights to all

We researched and used tested human rights education methods that have been proven to work in empowering young people

Sessions were designed by and for young people in mind
As well as understanding the background to rights and how they are underpinned in international law, we used activities that aimed to leave young people feeling empowered to defend their rights and potentially use their knowledge to empower other young people.
Empathy, and how it plays a role in our rights, was at the core of our workshops. We explored the meaning of empathy and how it was essential to our understanding and upholding of human rights and how we also use it all the time in our everyday lives.
We found that using everyday scenarios was a useful tool for providing perspective on how important human rights are to our daily lives, and that they are something that directly impact us rather than that of something that is distant.
These sessions finished with an evaluation and a next step; young people were given the opportunity to plan what they might do to make a difference.
And while our campaign might have come to an end, that doesn't mean we will stop raising awareness and trying to ensure young people remain engaged enough to advocate for these rights and to also take action on defending these rights.
About Amnesty UK Blogs
Our blogs are written by Amnesty International staff, volunteers and other interested individuals, to encourage debate around human rights issues. They do not necessarily represent the views of Amnesty International.
View latest posts